A dad surprised his daughter after he returned home from deployment by dressing up in Beauty and the Beast costume to dance with her – before pulling off the mask and revealing his face.
Brandon Richards, who was serving abroad for six-and-a-half months, returned home from deployment without his kids Morgan, aged six, and Jax, three, knowing he was back.
Before he was due home, Brandon's wife Elizabeth started coming up with ways he could surprise their children and found the costumes online and started planning the day.
In the first surprise, Morgan enters the room wearing Belle's famous ballgown, and sees 'Beast' at the end of the room inviting her to dance.
As she excitedly turns around and grinning at the camera, she joins 'Beast' for a dance and Brandon slow dances with her before getting down on one knee and removing his mask.
Morgan excitedly shouts 'daddy' before looking at him in shock, and then giving Brandon a big hug shouting 'daddy' again.
To surprise Jax, Elizabeth, from California, USA, took him out to buy donuts and while they were ordering in the store, Brandon was already there to surprise his son.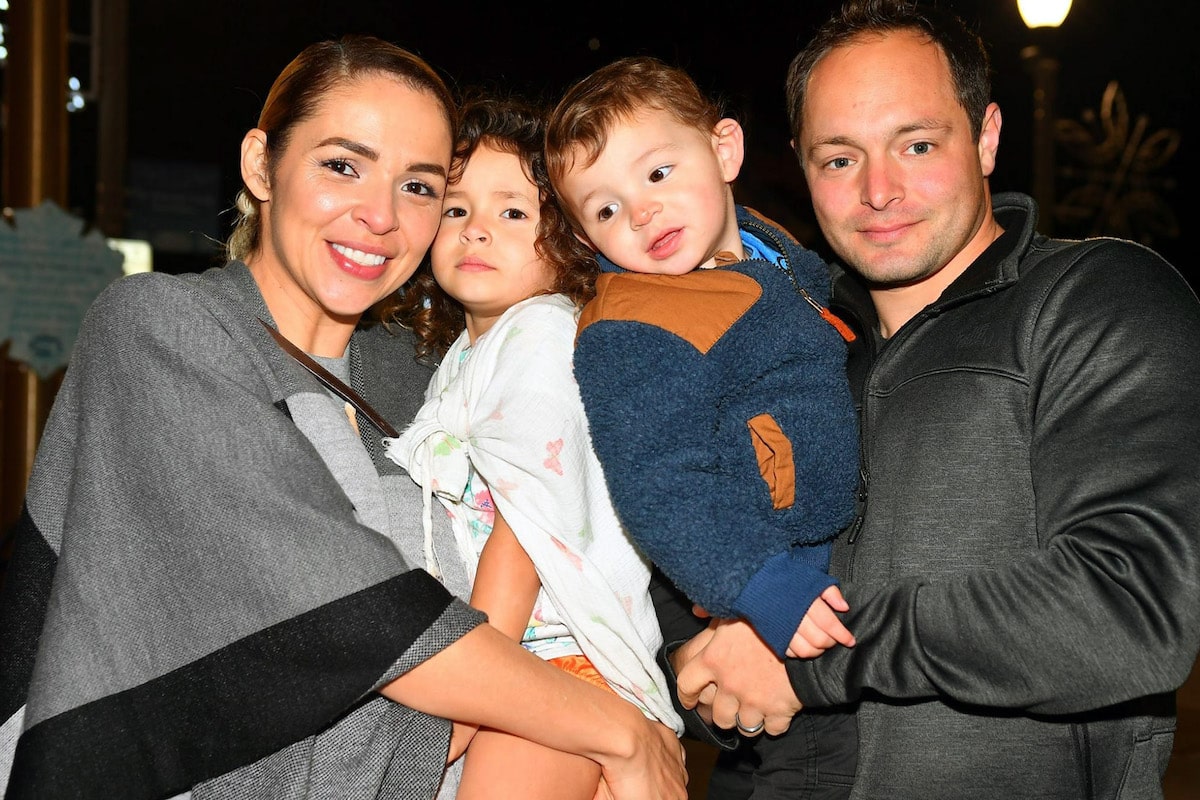 -Scroll down to see adorable video below-
While Elizabeth is filming Jax, she tells him to pick his donut and as he looks up, spots Brandon and says 'hello daddy' before running over into his arms for a hug.
Elizabeth said: "Morgan and Jax knew daddy was almost home but didn't know a date and weren't involved in any planning.
"The reunion was extra special this time as dad missed Morgan's first day of kindergarten and has grown so much during his deployment.
"For Jax, when dad left he was using one or two-word phrases and has now increased to five or six-word phrases.
"It was all spontaneous. Although Morgan was not over her daddy dressing as Beast so she had him wear it to her Daddy Daughter dance."
Elizabeth revealed that the planning of a surprise reunion is always difficult as the journey back is subject to delays and multiple long layovers.
So, once she was told a tentative date he would be home, she went about planning for all eventualities ready for the big surprise.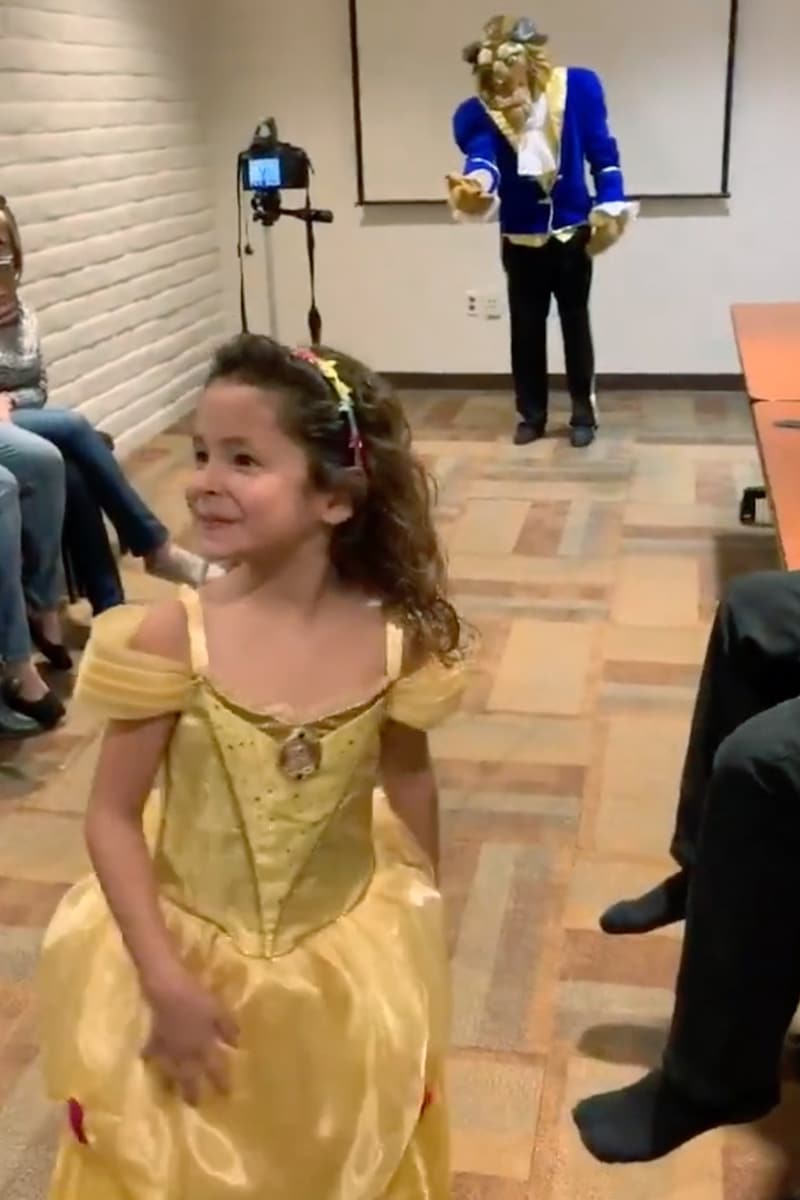 She added: "I called the YMCA we are members at and they held one of their rooms for us for the whole day.
"His arrival times changed from 5am to 9am then to 11am then back to 10am – it wasn't easy to plan with so much uncertainty.
"I was ready to talk to the school to surprise her there if he arrived during hours but I was fairly certain he wouldn't make it home early enough since she's in half day kindergarten.
"I had to delegate jobs for family members who were here with us. My daughter was dropped off at school in the morning per usual. My son has speech and OT therapy so I had to have family drop Jax off while I drove to get my husband.
"Then drive to the donut shop and wait for Jax to arrive with my sister in law. While all this is happening, my daughter is getting out of school so I had one of my good friends Erica take Morgan from school and bring her to the YMCA where we all were waiting.
"The best part of the YMCA was that I was able to take Jax to the child watch so we could surprise Morgan and have her special moment like he did.
"My son has some hyper sensitivities that we had to really consider for each surprise. One idea didn't fit for both and I originally purchased two T-Rex blow-up costumes.
"My thought was to have myself and Jax play in them at home for the days leading up to dad's arrival then swap myself for dad hoping Jax would think it was me in it playing with him until dad pops out instead.
"However, once I simply opened the packages Jax had a major breakdown so that was a hard no and donut shop it was instead."
Brandon's deployment was his third since having children and Elizabeth said he's always willing to do anything special for them when he arrives home.
She said: "One of the three times, I was pregnant with our first and he was back a couple months before Morgan was born.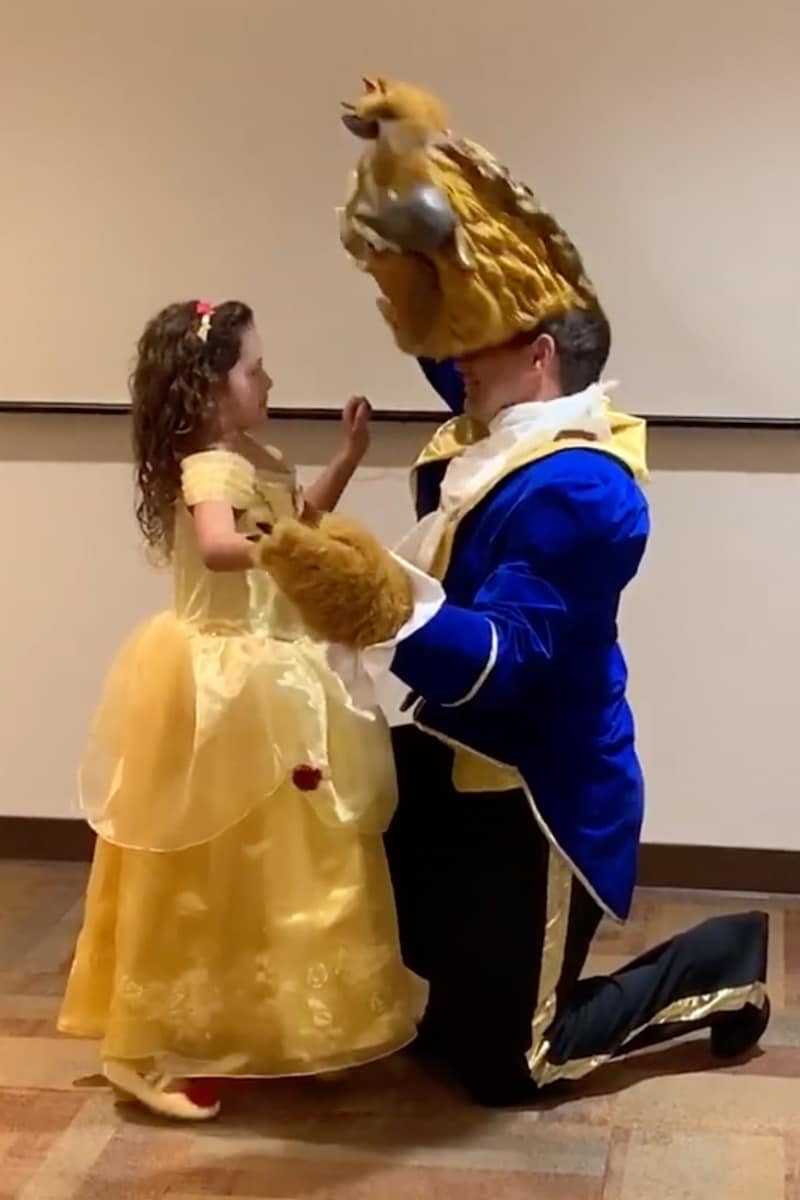 "When I was pregnant with Jax he was on deployment again and he was sent back for the delivery then sent back 10 days after Jax was born.
"He's such a good dad and he's always willing to do anything for his kids – I even joked about him wearing a blow-up unicorn costume – he wasn't crazy about it but still willing.
"We've since watched the videos over and over and it all turned out so great."
Story courtesy of T&T Creative Media.