A military dad surprised his cheerleader daughter upon his return from deployment by photobombing her group picture.
Karlie Albert from Carencro, Louisiana, had not seen her dad First Lieutenant Kyle Albert since his deployment to Iraq in November 2020.
However, Karlie's grandmother – Kyle's mom – got in contact with mom Candice to say that he would be coming home in a few weeks and that they should plan a surprise.
Candice realized that Karlie had to cheer at a high school football game the day after Kyle's return and thought it would be the perfect setting for them to reunite.
So, Candice reached out to her cheer coach and planned for Kyle to photobomb a group photo of the cheerleaders.
On the day of the surprise, October 8th, Karlie went to a friend's house to get ready for the game but what she didn't know was that her whole family and cheer coach were preparing for the surprise.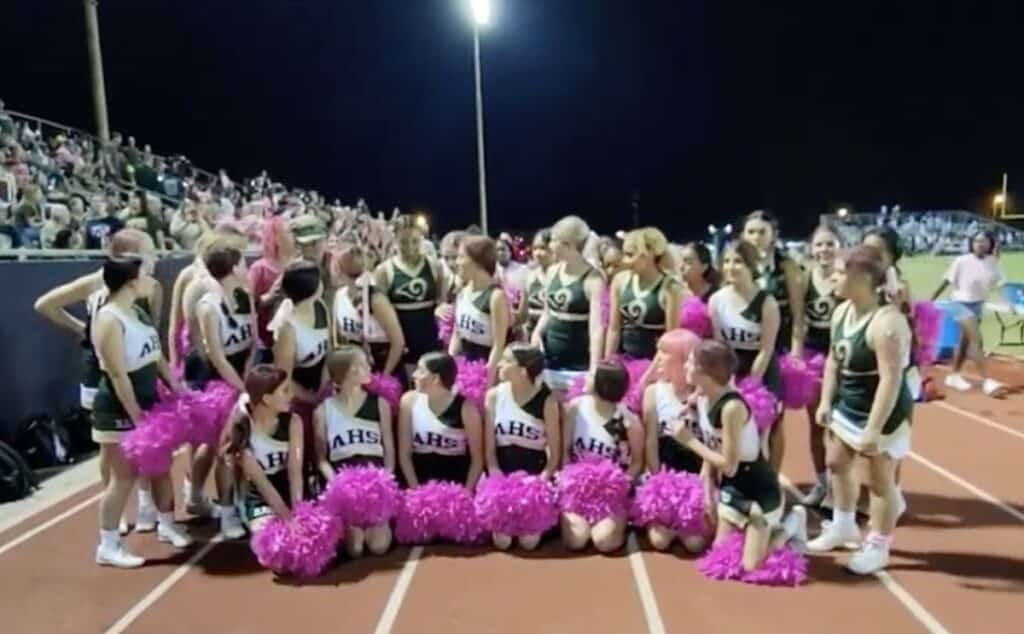 Kyle and his side of the family hid outside of the stadium throughout the first half of the game waiting for the big moment.
As soon as halftime began the cheer coach got all the cheerleaders including Karlie together for a group photo.
Karlie was told to get to the front of the photo and kneel as this meant she couldn't see what was happening behind her.
READ MORE: Dancing Cop Wows Onlookers As He Goes Move-For-Move With Mardi Gras Cheerleaders' Ambitious Dance Routine
The team's announcer announced Karlie's name along with all her teammates telling her to turn around.
Kyle began to walk through the cheerleaders and said: "Someone is missing."
The moment she saw her dad she jumped up in shock and her dad ran towards her.
They both began to hug and wouldn't let go of each other.
Karlie said: "I was so relieved with joy that he was home and safe.
"With everything going on with the military in other foreign places and some kids not being able to reunite with their parents, I had been so worried about my dad not making it home.
"After crying to YouTube videos of people in the military's kids being surprised by their parents returning home, I never thought that I would end up being one of those kids.
"Thank you to everyone who participated and surprised me."
Dad, Kyle said: "I was nervous and excited to see her as the first half of the game took forever waiting to see her.
"Then I felt relieved and overwhelmed when I saw her reaction.
"I couldn't believe how much she had grown in a year."
Mom, Candice said: "The reunion was very emotional for me.
"To see my daughter's face when reuniting with her dad after almost a year was priceless.
"She is definitely a daddy's girl and even through separation, they have an unbreakable bond.
"It was such a heart-warming experience for me, everyone who attended, and also who viewed the video."
Story via T&T Creative Media