This nimble cop stunned onlookers at a recent Mardi Gras parade as he joined in with a cheerleading group's ambitious dance routine.
Going move-for-move with the group, Sgt. Jeremy March, 47, of the Mobile Police Department, was captured on video shimmying, waving his hands in the air and even shaking his hips as he moved down the street with the parade.
The moment took place in Mobile, Alabama, during the Order Of The Polka Dots Mardi Gras Parade and was captured by amazed onlooker Zeb Ramey, 30.
Sgt. March's moves received rave reviews from onlookers, with thousands of people praising him online for the human touch he brought to his policing duties.
And the police officer said that he's always had a big heart for the children of his community, as he also works in the teen department at his local church as a youth leader.
Keep scrolling to see hilarious video below
Five or six years ago, the sergeant saw a marching band come past his post during one of the Mardi Gras parades – and so, in a goofy fashion, the cop tried to mimic their moves.
The kids on the street really got a kick out of his efforts and so he continued the tradition every year at the parade.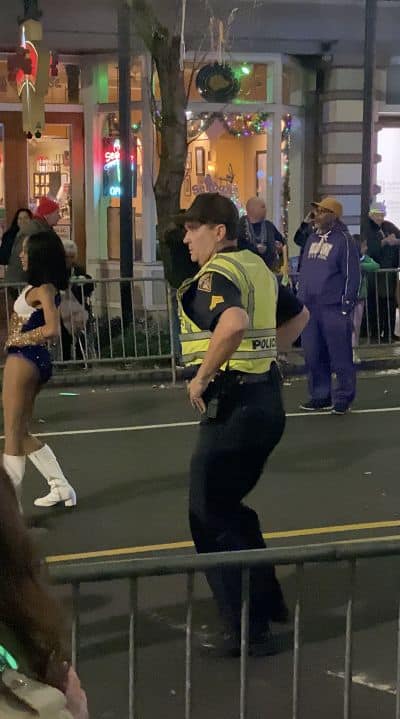 This year, however, joining a dance group on the street took things a little further still.
The cop said that he simply tried to mimic the dancers as he moved along the street with them – but in the footage, many viewers have said the sergeant looks very close to keeping the beat.
Each year, he has had more and more families come to his corner during the parade.
Speaking of this year's moment, Sgt. March, who has been with the police department for 22 years, said: "A message, I guess, I would like others to see is that police are human too, and we shouldn't always be expected to be all serious and appear unemotional all the time in public.
"I don't know of anyone who would love a job where that was a requirement.
"I absolutely love my job and I believe that I have a right to let that show – I want people to see that.
"An overwhelming majority of responses to all the dancing has been very thoughtful and extremely positive…. Most people love it and they think it's great and are very supportive."