A man could not hold back his happy tears when his wife surprised him with a chopping board featuring his late father's handwritten chili recipe – a family favorite amongst aunts and uncles, children and grandchildren. 
In James Neil's family, his father's chili became legendary, acting as a staple at gatherings over the years, as well as winning many chili cook-off competitions.
The meal was so set in family pastimes that, eventually, James' own children would ask for their grandpa's chili, known by that point simply as Grandpa Pete's Chili.
Pete, who lived in Canada, passed away from cancer in 2020, and while cleaning out the house, James' wife, Robin, came across a series of letters: one a handwritten recipe for Grandpa Pete's Chili; another ending, "Love, Dad."
James' father came from a generation of men who didn't openly say "I love you" very often, Robin said, and so she decided to ask an engraver to combine the handwritten recipe and the expression of love on a chopping board.
On Christmas Day 2021, James opened a box and was initially unsure what it contained.
With Robin recording on her phone, James then realized that the writing on the chopping board staring back at him was his father's – but it was the "Love, Dad" that set him off. 
As soon as James read that part, he said, all the emotions came flooding back, bringing him to happy tears.
Since that day, James has made numerous batches of Grandpa Pete's Chili, which he plans to serve at future family get-togethers.
Robin also set up a TikTok account to share the video, so that family on the other side of North America could check out James' wholesome reaction.
Little did she know, thousands of TikTok users would relate to James' emotional response, and the video soon went viral.
Robin, speaking of the surprise, said: " We lost Peter to cancer in 2020, and this was a small way I hoped we could have a bit of him here with us.
"I cried – I was so happy that it clearly meant so much to him.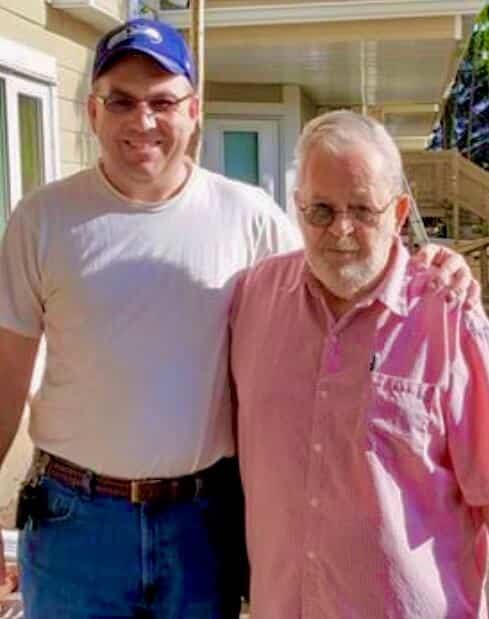 "That is our daughter in the background, who said, 'I'll get the tissues.' We all needed them.
"The post of the moment was more impactful than I ever thought. It was my very first TikTok video.
"Peter's sister is on TikTok, so I thought she'd get a kick out of seeing it on there. I had two followers at the time.
"We woke up the next morning to thousands of views and comments from people all over the world. It was so overwhelming.
"We are 2500 miles away from family so we always take video of opening presents and share them, so we can feel a little more connected.
"This was a small part of the video that day; I just thought a couple of folks would see it and it would brighten their day.
"It never crossed my mind that it would take off like it did." 
Story via T&T Creative Media