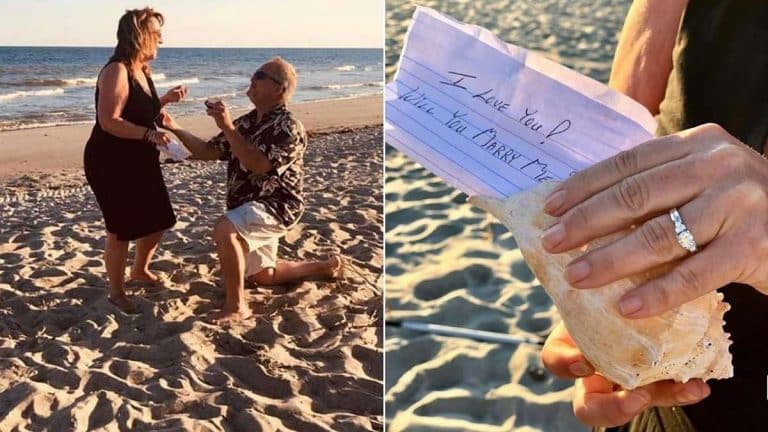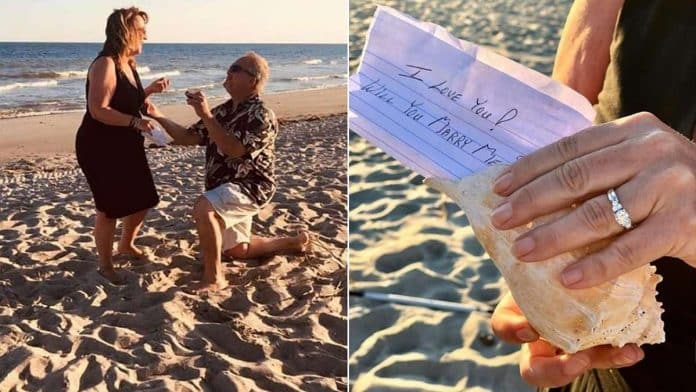 A message inside of a conch shell led to a dream proposal for one woman.
Teresa Tatlock, 58, could barely believe her eyes as inside the shell her granddaughter 'found' on her favorite beach was a message.
And as she read it, her partner Terrell Stinson, 58, got down on one knee to pop the question.
Both Teresa and Terrell lost their previous partners to cancer, and for some time Terrell had been thinking about how to propose to the new love in his life.
Knowing Teresa's love of the beach – particular Holden Beach in North Carolina, her favorite – Terrell chose to incorporate the coast into his big surprise.
After initially considered a message in a bottle, Terrell gained permission from Teresa's three kids – one of whom mentioned having Teresa's granddaughter, Kaylynn, 9, use a conch shell instead.
Knowing Teresa's love of shells, Terrell thought the idea was perfect for his June 1 surprise.
With Teresa's daughter-in-law Krystal filming, Kaylynn initially lost sight of the planted object, creating cause for concern.
But eventually Kaylynn was able to discover the object, and when she presented it to Teresa, her grandmother had no idea what was to come.
As Teresa admired the shell – which looked slightly out of place on the sandy beach, given how grand it looked – she then peered inside and found a note.
As Teresa read the note, which said, "I LOVE YOU! WILL YOU MARRY ME?", she then turned around to discover Terrell, who had been walking behind her, down on one knee.
As tears streamed down Teresa's face, she delightedly accepted.
The couple, from Amherst, VA, then lovingly embraced on the beach.
Speaking of the moment, Krystal said: "The response to the video has been people saying it makes them feel good.
"We all can use something like this in today's world right now.

"We hope the video shows that it's never too late to find happiness."
Story courtesy of T&T Creative Media