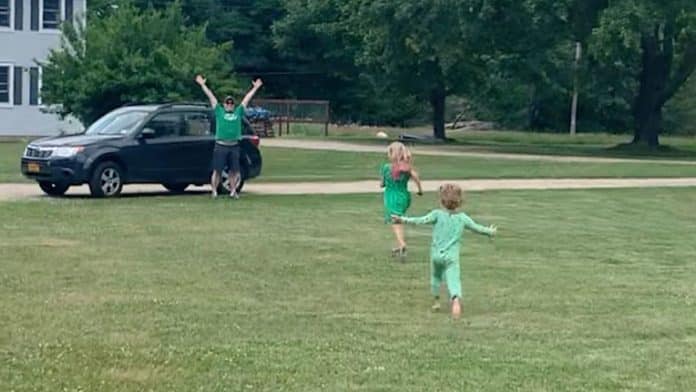 A pair of loving siblings ran the length of a field screaming in delight when they realized that their EMS-worker father, who they had not seen for more than 100 days, was standing at the other end.
Patrick McNulty's return on July 1 was a complete surprise to daughter Ivy, 8, and son Calum, 4.
The siblings had been staying with their grandparents in South Kingstown, Rhode Island, along with their mother, Abby McInerney, 44, since March 20.
Meanwhile, Patrick, 44, had remained in New York City during the height of the coronavirus pandemic, continuing his work with the emergency services.
Soon, days apart became weeks and then months, Patrick said.
In order to fight the virus on the frontlines, the father-of-two missed birthdays, Mother's Day, Father's Day, while witnessing firsthand the devastating impact of COVID-19.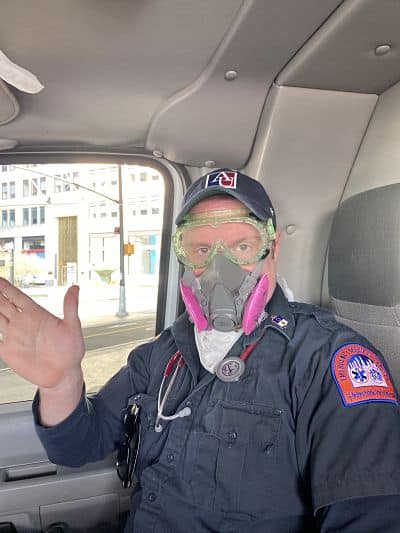 Being apart from his family for so long was extremely tough, Patrick said, made increasingly difficult by the scenes he witnessed on a daily basis.
But ahead of the July 4th weekend, Patrick was given the good news: with New York's cases more under control, he could head to Rhode Island to see his kids.
RELATED: Man Proposes To Partner As She Is Wheeled Out Of Hospital After Beating Covid
In total, Patrick had spent 103 days apart from Ivy and Calum before the surprise reunion.
The longest time they had been apart before was a long weekend.
Patrick said: "It was pure joy – no words will ever be able to describe that experience.
"A lot of people were talking about playing it over and over again and pointing out the reaction that evolved on my daughter's face.
"Abby pointed out how primal it was.
"It just looked like true love.
"I want people to feel that all of the work that has been done, all of the sacrifices made for the good of others should not go unrecognized.
"I want them to have hope that there are people out there that want to protect them, and to care for them, no matter who they are and where they are from."
Story courtesy of T&T Creative Media