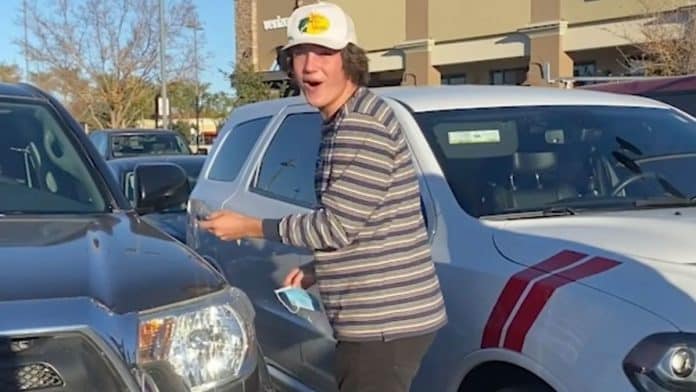 A humble teenager was left stunned when he spotted his dream car in a parking lot – only to be handed a set of keys which suddenly opened the door as a surprise gift.
Zach Werner, 15, from Chandler, Arizona, had dreamed of owning a Tacoma as his first car, telling parents Nate and Stacy how he wanted to add bigger wheels and an impressive stereo system.
But for the months leading up to his big surprise, Zach was told the vehicles – even used – were pricey and difficult to get ahold of.
Stacy, 53, said his kind nature also means Zach never asks for anything.
But then, around a week before Christmas and ahead of his 16th birthday coming up on February 3, 2021, Nate, 50, managed to find a Tacoma online, purchasing it the same day.
He and Stacy decided to make the vehicle a joint Christmas and birthday present and so, on Christmas Day, they played down the occasion, giving Zach athletic socks as a gift and telling him that golf clubs they had purchased for him had been backordered.
As a family tradition, the Werners head out to watch a movie on Christmas Day, so Nate decided to place the Tacoma in the parking lot at a nearby cinema.
READ MORE: Man Who Lives In His Car Surprised With A New One After His Broke Down Forcing Him To Face Losing Job And Becoming Homeless Again
After watching the movie, the family walked across the parking lot, where Zach spotted the Tacoma and started admiring it.
When Nate then handed him the keys and the door opened, the teenager was in complete shock – the moment later hitting him as he wholesomely thanked his parents over and over.
Stacy said: "I could tell by his reaction that he was genuinely surprised, and that was the biggest thrill for me.
"It's hard to hide a truck and the excitement my husband and I had for him for three whole days.
"Zach has a sweet nature, is humble and always grateful so his reaction did not surprise me because that's him.
"That's a big reason we were determined to make this happen for him – he never asks for anything."
Story courtesy of T&T Creative Media