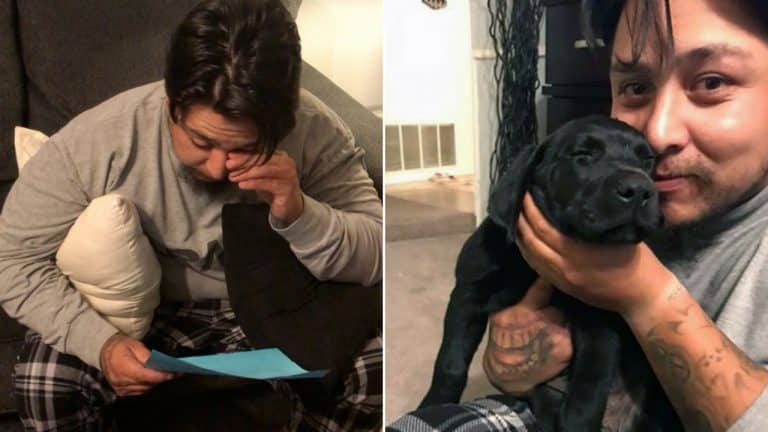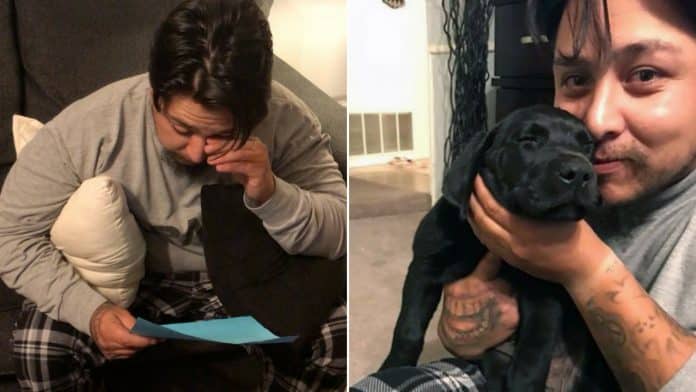 A U.S. Army veteran who suffers from severe PTSD was brought to tears after reading an emotional letter from his family surprising him with a service dog.
Rudy Pena, from Amarillo, Texas, is a 10-year Army Combat Medic but after two deployments in Iraq began suffering PTSD, night terrors and depression.
He has always wanted a service dog to help but it can cost $20,000-$30,000 and sometimes even more depending on the breed, training, insurance and other costs.
Rudy's wife, Samantha, was able to track down a local woman who offered her an affordable price so she immediately began planning the heart-warming surprise.
Samantha, along with the couple's children Aubrie and Trever and Rudy's stepson Adrian Rojas, gave Rudy a letter to read on Father's Day, before taking him to meet his new dog.
As Rudy reads the moving letter out loud, he realizes the gift his family have given him, fighting back the tears to finish reading the rest of the note.
Samantha said: "My husband suffers from severe PTSD, we have been here for him through the good and the bad and wanted to show our appreciation for him.
"We've tried everything possible but as most veterans know there is no cure and memories never go away – he has seen his brothers die in his arms and the memories haunt him.
"We are not a rich family but we do fine with what we have and a service dog is something he has always wanted – it costs thousands for a service dog or you spend years on a waiting list.
"I was able to track down a local woman who offered me an affordable price for an AKC-registered Labrador up to date on all shots.
"She advised me to keep my money and put it towards training classes. It was after this kind gesture I was able to find a local trainer who offered me classes at an affordable rate as well.
"I honestly couldn't believe that these amazing people were willing to help us just for my husband."
An excited Rudy and family went to pick up his new service dog, which he named Justice, later that day, and Samantha filmed the pair playing – quickly becoming inseparable.
Rudy said: "I served in the Army with two deployments but was robbed of my third by cancer, both of my deployments were to Iraq.
"Justice and I immediately bonded – he is my battle buddy for life. He has had an amazing impact on me he never leaves my side and somehow knows when I'm upset laying his head on my lap to calm me down.
"We like playing fetch, going on walks and my favorite is just laying with him on the couch.
"I'm very lucky to have a family that cares and loves me enough to find him for me, I couldn't live without my battle buddy now that I have him."
Samantha added: "People pass by veterans in the streets every day and do nothing to help them so how could I expect anyone to help us?
"No one will ever know the pain and suffering these great Americans go through unless you live with them daily.
"Our only wish was to help him in any way that we could and we knew getting him a buddy who can help him and bond with him like no other was the answer.
"We may not have much in this world but family is always there and our little family is so proud of him – he is our Hero."
Watch the video and listen to Rudy reading the full letter!