A beloved grandma could not contain her happy tears when she realize that the voice in a Build-A-Bear saying "I Love You" was that of her late husband, who had passed away a few weeks earlier after nearly seven decades together.
When 86-year-old May Landles was presented with the bear, her granddaughter, Maxine Mann, pressed the teddy's hand and it gestured back, "I Love You, May."
A stunned May initially said, "Where did you get that?" to Maxine, 27, as the bear repeated the message three times for full effect.
Then, when the realization hit May that it was, in fact, her husband Jim, 90, speaking her eyes began to well up as she hugged the plush toy.
May, from Scotland, UK, was married to Jim for 67 year – together for 69 – before he passed away on February 19, 2022.
After Jim passed, Maxine noticed that her grandma was hugging a hot water bottle at night, and so she wanted to get a teddy with her grandpa's voice in it.
The only recording Maxine could find was one of Jim saying "I love you" to May, and so she headed to Build-A-Bear, where she made a teddy with an "I Love You" t-shirt and shoes like her grandpa used to wear.
Maxine presented the bear to her grandma on March 7, with May sitting in her late husband's chair as she received the gift.
READ MORE LIKE THIS: Woman Reacts To Hearing Late Mom Say 'I Love You' Through Teddy Bear
As May was presented with the teddy, Maxine captured the moment on video – including her grandma's tear-filled reaction.
Maxine also presented a bear with her Papa's voice to her daughter, which said, "I love you Jessica – a thousand kisses from Papa to you."
When Maxine surprised her daughter with the gift, Jessica pointed to the sky and said, "It's Papa, in heaven."
Maxine, speaking of surprising her mother with the plush toy, said: "She opened the box and said the bear was beautiful, but she didn't know at this point there was a sound in it.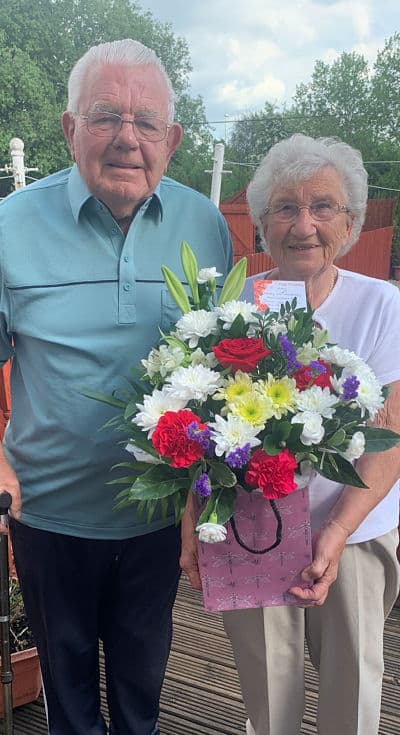 "I helped her press the hand and she heard, 'I love you, May,' and she asked, 'Did that say, "I love you, May?"'
"I said, 'Yeah, it's Papa,' and she was so shocked she couldn't believe all the wonderful things you can get nowadays.
"I was so glad she liked it – I didn't want her to be too upset, but I knew no matter when I gave her it to her, she would get upset hearing his voice.
"But I knew when no-one was in with her that it would bring her the comfort of him being there.
"I was so upset seeing her sobbing at the end, but the way she cuddled it made me realize how special this gift was for her.
"She sits it on her bed all day and then cuddles it at night till she's ready to sleep and puts the bear on my papas side of the bed."
Story via T&T Creative Media