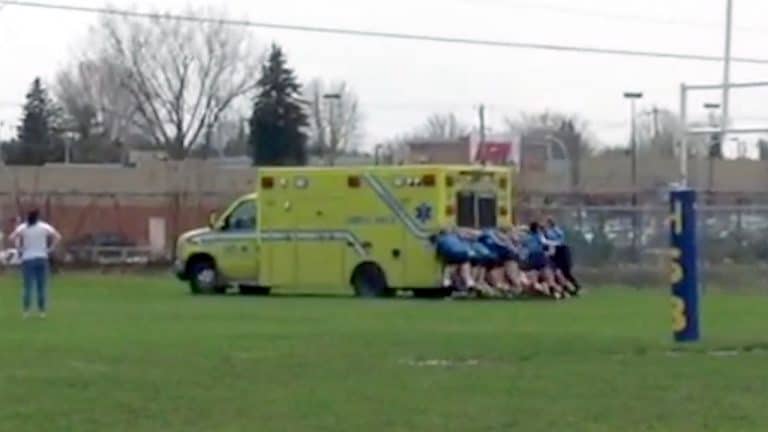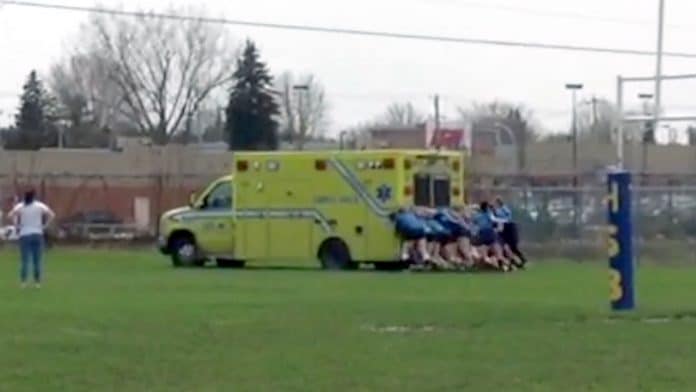 A female rugby team demonstrated real girl power by pushing an ambulance after it got stuck in the mud carrying their injured teammate to hospital.
Players at Chateauguay Valley Regional High School in Quebec, Canada, were left shaken on May 2 2018 after a teammate injured her neck while making a tackle in the middle of a game.
After kneeling around her out of respect, the rest of the team watched as the teen was loaded into the back of the ambulance and the medics were ready to drive away.
But the ambulance didn't get far as its wheels immediately began spinning in the mud making it impossible to move.
Without hesitation, the teammates rallied around the ambulance and worked together to push the vehicle out of the mud to a chorus of rapturous cheers from spectator family and friends
Laura Ykema filmed the inspirational moment as her sister Alyssa, 16, was playing on the same Chateauguay team as the injured girl.
She said: "After a very brave sprint and attempted tackle to stop a player from Howard S. Billings High scoring at the goal line, a CVR player went down hard.
"The ambulance arrived on the wet and muddy field but the ambulance made it to the immobile brave soul.
"Once loaded up, the rest of the team returned to their bench, but when the ambulance went to take off, it got stuck in the mud and was spinning.
"Before the crowd could even realize what was going on, without hesitation, the entire team ran across and pushed the vehicle out of the mud so their teammate could get the care she needed ASAP.
"It touched my heart – it was team spirit in its purest of forms.
"I am proud of every single one of these girls and admire their team spirit. Despite the loss (26-17) they played a hell of a game and will get the next one."
Fortunately, the girl suffered no serious injuries and was back at school later the same week.