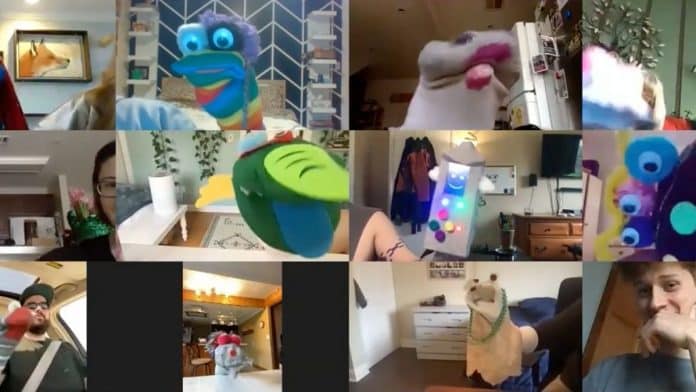 An artist who creates quirky sock puppets on the side was surprised by friends and family with a zoom call using sock puppets to sing him Happy Birthday.
The birthday was Cody's second in isolation because of the coronavirus, and so his sister, Jillian, 33, wanted to do something different to surprise him.
And the plan worked as Cody, 27, had a look of sheer amazement as his friends – and their sock puppets – started to appear on his screen on April 10.
Jillian said she came up with the idea for using sock puppets a couple of months before her brother's big day.
Cody, who lives just outside Chicago, is an artist and has dabbled in making sock puppets from time to time, Jillian said.
READ MORE LIKE THIS: Matthew McConaughey Surprises Senior Citizens By Calling Their Virtual Bingo Game
His sister then texted some of her brother's high school friends, who were more than happy to oblige.
In total, 12 sock puppets greeted Cody, who, after the initial shock, watched on with his head in his hands in amazement.
Jillian said she was extremely impressed, as there was no dress rehearsal, and Cody's friends are dotted across the United States and one in Scotland.
She said: "I was pretty delighted by how everything worked out – it was fun to see him get to talk with everyone after we stopped filming.
"This pandemic has been so isolating for people and I think it's crucial to connect with the important people in your life whatever way you can during these times.
"We've all gotten into a lot of pandemic routines after all these months and this was a fun way to break it up with something quirky and celebratory.
"The response to the video was very sweet – lots of people wishing Cody a happy birthday and commenting on how creative everyone was with their puppet."
Story via T&T Creative Media