This is the mesmerizing moment more than 500 students attending a choir conference belted out the national anthem in unison and wowed guests.
Middle and High school pupils at the Kentucky Music Educators All State Choir Conference belted out the song in the lobby of their hotel on the first day of the event.
Standing on the landing's in front of their hotel rooms, their singing echoed around the cavernous Hyatt Hotel in Louisville.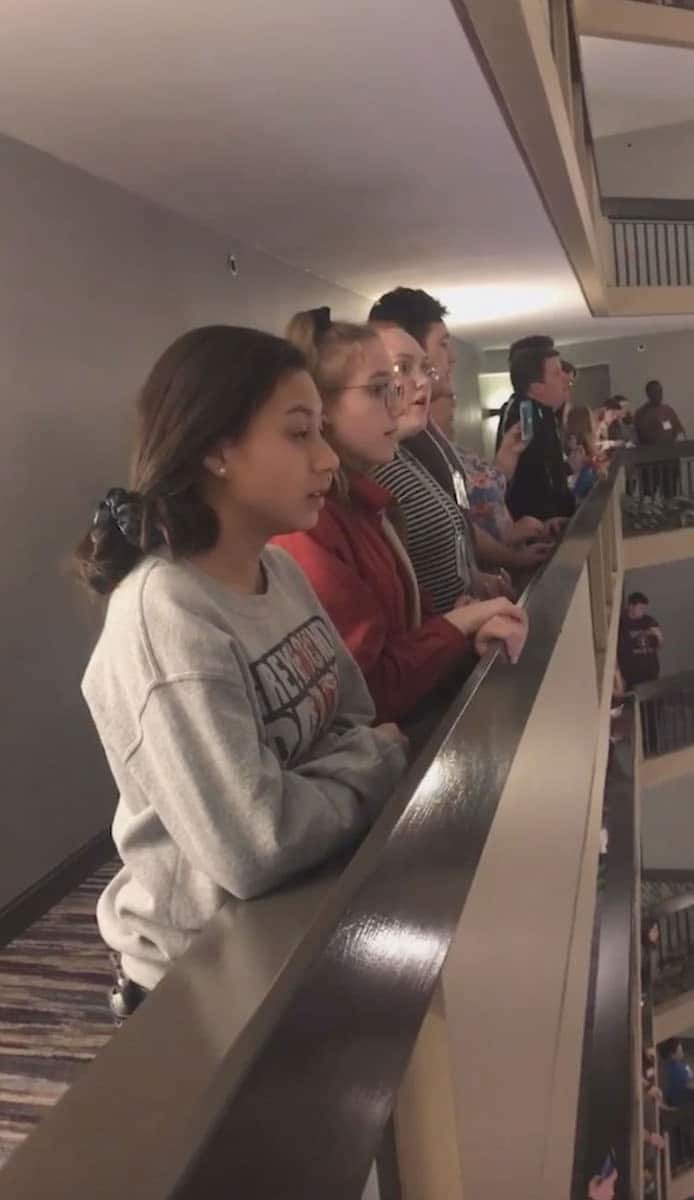 The 19-story hotel perfectly amplified the acoustics of the choir – creating truly amazing results for all to hear.
-Scroll down for video-
Bill Bartleman, who was present and filmed the 25-year tradition at this year's choir conference, said: "The students do it on their own without any guidance or prodding from faculty members.
"It began more than 25 years ago and has become a long-standing tradition ever since. I couldn't imagine the conference without it
"The National Anthem and chants of "USA, USA" this year were simply breathtaking.
"There were no politics – it was just unifying and truly patriotic."
The Kentucky Music Educator's Association has been doing the "Star-Spangled Banner" tradition at the Hyatt Regency for the numerous years.
During their three day stay the choir repeat the performance at the end of each day.
Guests staying at the hotel all take to the balconies at 11 p.m., to hear the spine-tingling choir in action.
After being shared on social media the special tradition went viral and was viewed 2.8 million times.
Garrett Mager, a traveler from Frankfort, was staying at the hotel and also captured their performance on video. 
"I was sleeping in my room and then all of sudden I'm woken up by this racket and a bunch of kids," Mager said.
"I went outside on the balcony and asked them what they were doing and they said they were getting ready to sing the national anthem. So I watched and it was incredible."
Story courtesy of T&T Creative Media.