A woman was left in complete shock as her boyfriend got down on one knee and proposed right as she entered her new home for the very first time.
As Kathy Jones, 57, opened the front door of her new Woodbine, Georgia, home, she was met with boyfriend Maurice Hester, 51, holding a ring, while Kathy's friends and family surrounded him.
In the balloon-filled hallway, Maurice then got down on one knee and popped the questions – to which Kathy responded with a delighted yes.
In total more than 25 people were present for the March 14 surprise, Maurice said – the event taking place right before COVID-19 restrictions took hold of the state.
Maurice said he has grown extremely close to Kathy's family, and so he reached out to her sister Kim and daughter, Kristen.
Kathy had been asking Kristen to come and see the house, and so having her present would not have been a huge surprise, Maurice said.
Since the couple were still closing on the house, Maurice also had to ask the realtor to be present, who captured the entire moment on video.
Speaking of the surprise, Maurice said: "As Kathy walked into our new home.
"She was surrounded by family and close friends, and myself of course, and she made me the happiest man on earth, when she accepted my proposal.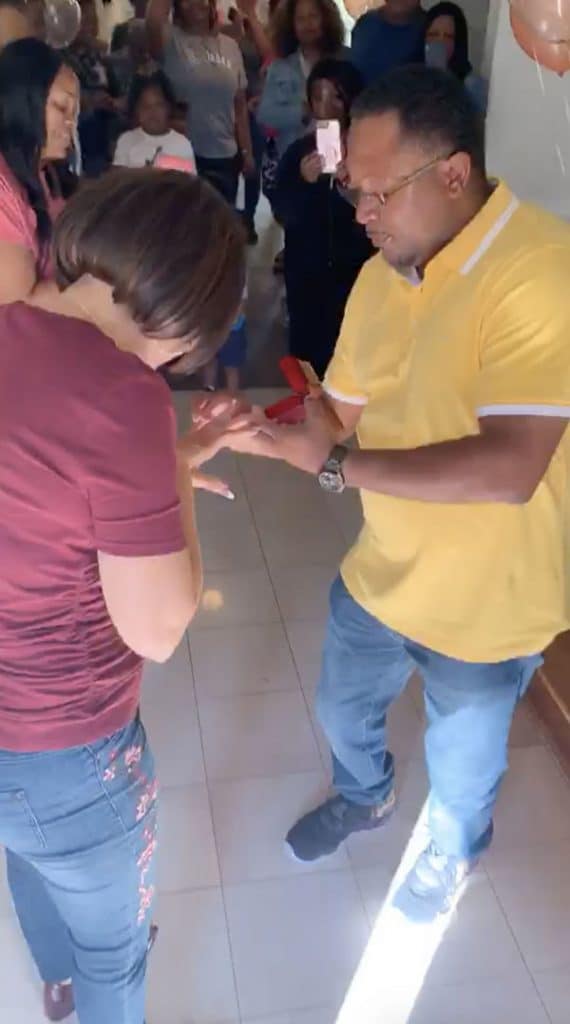 "There were many many emotions – the main one being relief, but also overjoyed, as I had been waiting for the perfect moment, and this was it.
"She said yes, and now we can begin building our life together."
Story courtesy of T&T Creative Media