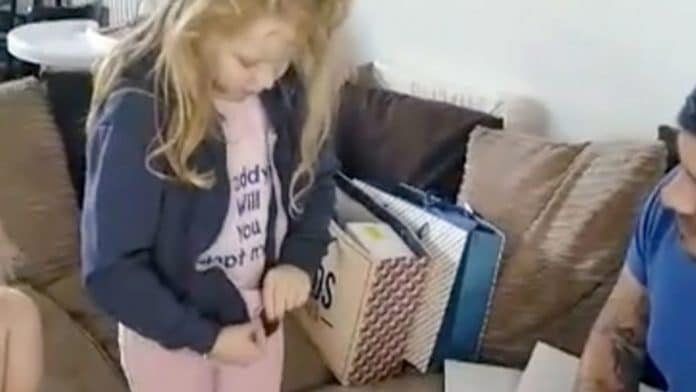 A stepfather was brought to tears when his stepdaughter unzipped her sweater and revealed a t-shirt that asked if he would adopt her.
Andie Griffiths, 29, had no idea about the surprise stepdaughter Brooke, aged seven, had in store for him, and began to well up as he realized what was unfolding.
Brooke and her mom, Victoria Barker, 24, from Shrewsbury, UK, kept the surprise secret for around four weeks before the grand reveal.
Only Brooke was entrusted with the secret because Vicki felt her and Andie's biological kids – Cory, aged five, Charlie, three, and Sapphire, one – might give away the surprise.
On Father's Day, June 21, Andie was presented with a card by Brooke, and as he read it he saw "P.S. Look at me after reading the card" at the bottom.
Once Andie saw the t-shirt he began to wipe his eyes before being moved to tears as Brooke approached him and gave him a comforting hug.
Because of COVID restrictions, the family plan to complete the adoption process when normal life has resumed.
Andie said: "Only Brooke was involved in the adoption surprise as the boys would have told me before the day – this way I had no idea this was going to happen.
"I treat all the kids the same no matter what, and they all love to play fight with me draw pictures and play games.
"The reaction and some of the comments on our social media post about the moment have been overwhelming."
Story courtesy of T&T Creative Media