This is the emotional moment a family in their 30s surprised their stepdad on FaceTime by asking him to read a heartwarming letter leading to an adult adoption request.
For Sherille Porter, 32, and Christopher Porter, 30, stepdad Rick Bolante, 48, has only ever been "dad" to them after stepping into their lives when he was 21 and they were just 5 and 3.
But ahead of Father's Day in 2021, Chris approached his mom, Jovi, from Los Angeles, California, and revealed he and Sherille had spoken about making things official.
Jovi agreed, as Sherille and Chris would like to have children of their own soon, and so they wanted Rick to be their legal grandfather.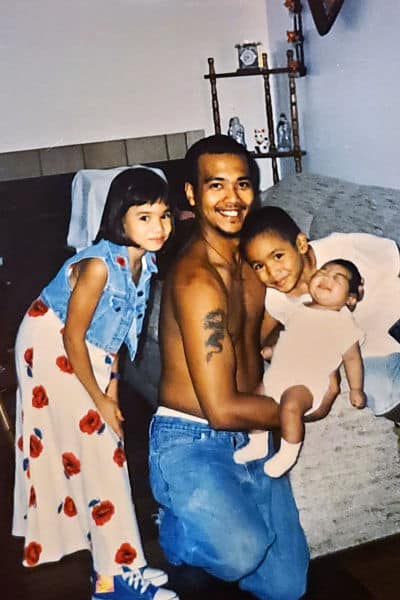 The original plan was for the pair to make the request in person, but with Sherille still on her honeymoon on Father's Day, the siblings had to come up with another plan.
The family FaceTime every Sunday, Jovi said, as Chris also lives away, in Michigan.
This meant Rick didn't expect a thing, and as the family sat down for their usual chat on June 20, Rick was presented with a letter from Sherille and Chris.
As he read it aloud, Chris and Sherille watched on remotely, while Jovi and Rick's children – Joy, 24, and Xavier, 13 – sat at the table while their mom recorded.
READ MORE: Teenager Sends Stepdad On Birthday Scavenger Hunt To Discover Adoption Paper Surprise
As Rick read through the letter, the family members all became more and more emotional.
Eventually, Rick reached the line, "Will you adopt me?", which started floods of tears on all devices.
Jovi said: "I just remembered this 21-year-old-boy who stepped in as their dad at 3 and almost 5 and gave as much as he could financially.
"He was just my boyfriend then and sacrificed, traveling to work 6 days a week, in LA traffic, to keep the kids in the same school and group of friends once we were married.
"I am proud of the children we raised together.
"Biology doesn't make you less of a parent or the only thing that makes you a parent.
"It takes a special kind of person to raise children that aren't your own – it takes courage and commitment and all of your heart.
"We're not 'step' or 'half,' we're just 'family.'"
Story via T&T Creative Media