A boy who idolizes his grandpa as a father figure decided he didn't just want to be like him but look like him too – so shaved his head bald so that they'd look the same.
Jameson, aged six, wanted to surprise his grandfather, Doug Surber, 68, so he asked his mom during his most recent visit to the barber if he could "be bald" like Papa Doug.
Jameson's mother Lindsey Surber, 23, from Coeur d'Alene, Idaho, adopted Jameson as a single mother, and so Doug has always been like a father figure to him, Lindsey said.
On September 19, 2020, Lindsey and Jameson headed after school to Maverick's Men's Hair where Jameson was adamant that he wanted to shave his head to look like Doug.
Lindsey said she initially had reservations about her son losing his head of hair, but seeing how enthused he was to surprise Doug, she decided to go along with it filming each step of the way.
As the barber began his cut, Jameson was "grinning from ear to ear," according to Lindsey, who began fostering Jameson when she was 21 before adopting him two years later.
READ MORE: Man Creates Sweetest Driveway Racetrack To Entertain Kids After They Kept Triggering His Security Camera By Cycling On Drive
When it was time for the big surprise, Lindsey covered Jameson in a blanket and Doug entered the room.
As he removed the blanket to discover a bald Jameson jumping up and down with excitement, Doug was in complete shock.
The grandfather rubbed his head in solidarity with his grandson, while Jameson then jumped into Papa Doug's arms.
Lindsey said: "My son came home from school and I informed him that he had an appointment at the barber shop later that day.
"He was very excited and started asking me if he could cut it all off and be bald like Papa Doug.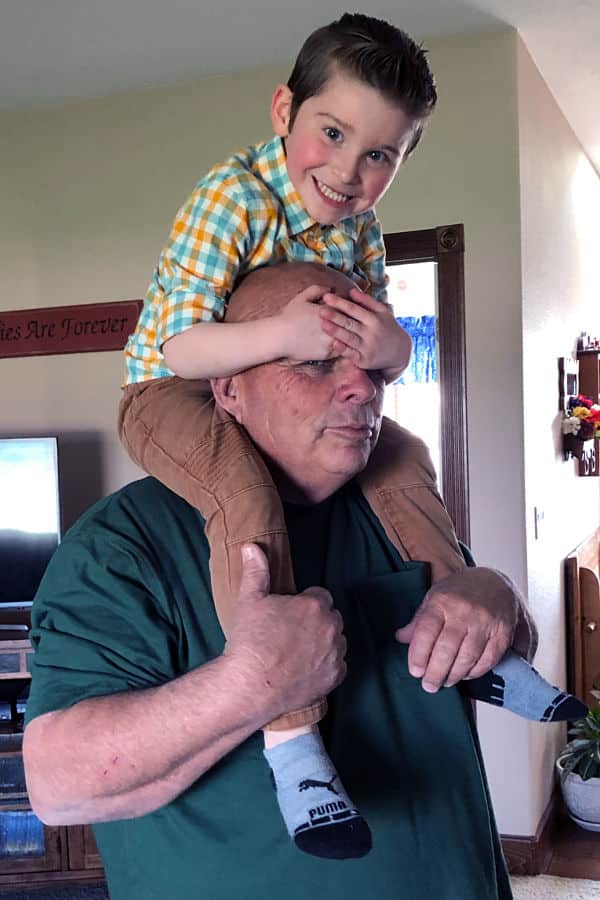 "Papa Doug has always been someone that my son has looked up to, and he had said that he wanted to be bald on multiple occasions, but we never thought he'd actually want to do it.
"When Papa Doug saw my son's shaved head for the first time his reaction was priceless.
"He was completely shocked that his grandson was bald, but I think he was also flattered that he wanted to be just like him.
"The huge response to our video was completely unexpected, and everyone has been so kind."
Courtesy of T&T Creative Media