This is the heart-warming moment a competitor in a 5k race drops to the floor in shock after her partner proposes on the finish line.
April Swartz was attempting to catch her breath having just finished the gut-busting race in Carlisle, PA, when she spotted her partner Brian Riley.
He had finished the race before her and was waiting eagerly to congratulate her as she crossed the line.
But as April walks over to him stumbling and struggling to catch her breath, little does she know about what is about to unfold.
As Brian props her up and gives her a kiss he suddenly drops down on one knee and reveals an engagement ring.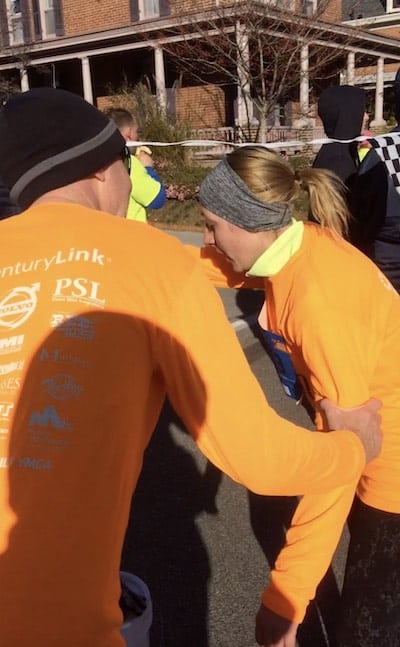 The visibly surprised April can barely catch her breath and drops to the floor, too, before gathering herself and nodding to say 'yes'.
April said: "I was caught completely off guard but I was overjoyed with my prize at the end of the five kilometres.
"I noticed my parents also standing at the finish line and fell to the ground as I saw Brian getting down on one knee."
Brian Riley had finished ten minutes before April, and spent the time preparing for her to cross the finish line.
April explained: "Brian finished well before me and had made sure his daughter had the ring and the camera ready as I crossed the finish line."
The race – called the Turkey Trot and sponsored by Carlisle YMCA – takes place every year on Thanksgiving Day.
Story courtesy of T&T Creative Media.