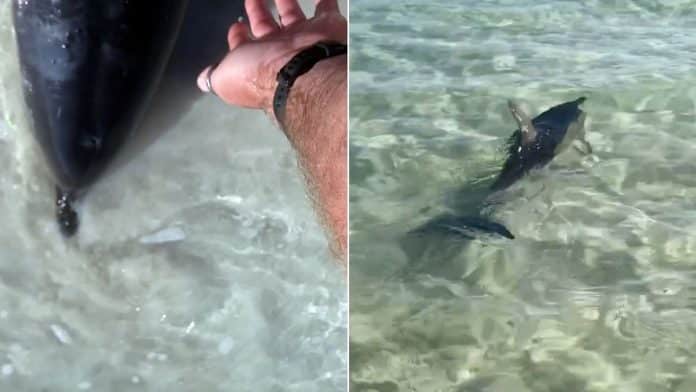 A selfless runner who discovered a beached dolphin during a race stopped to dramatically push it back to sea.
In the incredible POV footage, trail runner Alan Clarke is seen heading up to the helpless mammal, splashing it with water before carefully pushing the large dolphin off the sand.
During the rescue, the dolphin could be heard squeaking in discomfort while Alan attempted to rescue the roughly 6.5ft, 220lbs creature.
Despite the struggle, Alan, 37, was able to help the dolphin back into the waters off Hardwicke Bay, along the coastline of the Yorke Peninsula, Southern Australia.
According to Alan's running partner Quentin van der Werf, Alan was more than 300 kilometers into record-attempting run around the coast, coming into contact with the dolphin on April 29.
Quentin, 40, who operates trail running business 'In The Flinders' with Alan, said: "Alan was over 300km into a 500km record attempt run around the coastline of Yorke Peninsula in South Australia, when he saw the dolphin stranded on the beach.
"He took his shoes off, switched his phone on and put it in his pocket, waded out into the shallows and did what he needed to in order to release the dolphin."

Alan added: "It seemed happy enough apart from being beached but I knew time was a factor so I ended up hugging the dolphin to lift it and carry it out to sea.

"I was able to release the dolphin and watch it successfully swim away."
(Courtesy of T&T Creative Media)