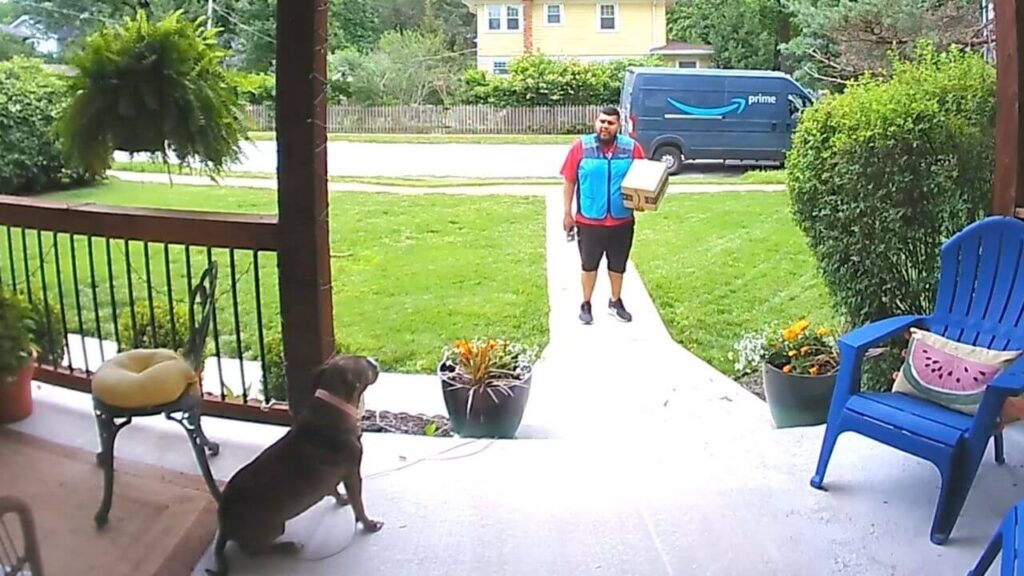 A doorbell cam captured the wholesome moment an Amazon delivery driver wary of a dog sitting on the porch overcame his fear and approached the pooch for a cute conversation.
In the sweet video, captured in Kansas City, Missouri, the driver, Eric, is seen approaching eight-year-old Grace, a rescued pitbull mix, who was waiting on her porch.
Initially apprehensive over the dog, Eric says, "Hi, pretty," and then asks, "Are you friendly?"
He then proclaims, "I feel like you're not…" before slowly approaching the house.
As he does so, Eric notice Grace is, in fact, more than happy to make friends with him, so he introduces himself with "Hi, I'm Eric" before placing the package down and letting a waggy tailed Grace say hello.
Grace's owner Ashley Gore, 38, was in the back yard when the moment took place and later discovered the wholesome video on her Ring camera, which she shared with friends and family on social media.
RELATED: Amazon Delivery Driver Praised For Performing Teens Hilarious Delivery Instructions
Speaking of Eric's encounter, which took place June 4, Ashley said: "It's no surprise to see the two of them finally become friends – Grace is a sweet soul.
"As a dog mom there is nothing better when someone treats your rescue pup with so much love.
"People should adopt a dog, she's taught me and so many others that no matter what you've been through, there is love in this world."
Story via T&T Creative Media