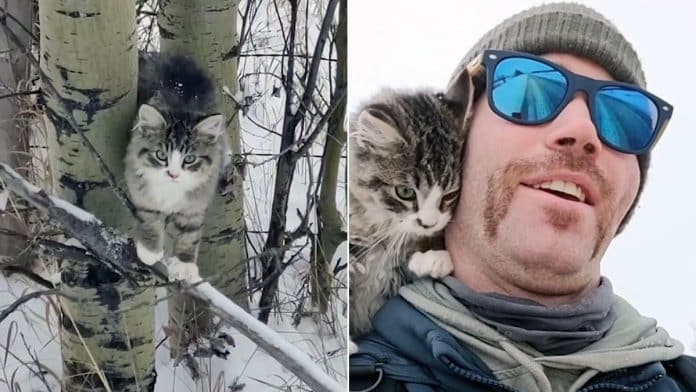 A kindhearted hiker rescued a kitten he discovered trapped in sub-zero temperatures meowing for help.
Max Adams, 31, was recording his hike in High Prairie, Alberta, Canada, in order to raise money for charity, when he suddenly heard the cat around 10kms into his 60km trip.
The hiker had been filming the chilly walk as part of his Movember fundraising activities, using the platform to offer facts about men's health.
Having headed towards the meowing, Max discovered an adorable bobtail kitten perched in a tree, desperately whining for help.
With no homes within a kilometer, Max decided to pick up the kitten, as temperatures in the area can reach -13F (-25C) at night.
They headed back to Max's vehicle, with the hiker filming his loving interactions with the kitten along the way as it took a ride on his shoulders, rubbing its head into his.
Having been unable to find the owner, Max used his charity platform to look for where the kitten might have come from.
The hiker also gave his sponsors naming rights, too – the kitten being dubbed Hytch through a vote.
A few days after the rescue on November 30 2019 Max was put in touch with Hytch's owner who explained that the kitten had run away and, after an extensive search, the family unfortunately thought he was lost forever and replaced him with another kitten for their children.
After the incredible journey the pair had been on, Max decided to keep Hytch and the kitten has since been visited by his old family.
Max, who was promoting Movember because he lost his grandpa to cancer in 2019, has also created an Instagram account for Hytch to educate people about feline health.
He said: "It's been a very enjoyable experience from the start – if it wasn't for stumbling across Hytch, I'd probably have produced a pretty boring Movember video.
"This cat was in obvious distress; it was a no brainer that anyone would have helped him out, Fate collided when our stories came together that day.
"Hytch was also reunited with his old family when they visited over the holidays, it was a really nice ending to a story that came full circle.
"What started out as a campaign to raise money for men's health turned into an unsuspecting friendship that now promotes cat health as well."
Story courtesy of T&T Creative Media.