A man could not hide his emotions as he was reunited with his puppy – who had run away days earlier.
The wholesome footage shows Marley, a Bernese Mountain Dog, trotting towards owner Wade Harrison, 46, who immediately fell to his knees to hug the puppy.
Wade, from Louisville, Illinois, lets out a high-pitched "Oh my gosh!" having last seen Marley days earlier.
Wade had grown extremely close to his new pet, having adopted her back in December and spent hours training her over a six-week period.
But on Sunday, January 17, when Wade let Marley outside to use the bathroom – something she had done multiple times before – within a matter of minutes, Marley was gone.
Over the days that followed, the family, who live in the country, spent all their time devoted to looking for Marley – from combing neighborhoods, to walking through river bottoms and staying up at night in the hope of hearing the 12-week-old pup.
Such endeavors brought no luck, and by Tuesday morning, having lost a lot of sleep, Wade and his wife, Stephanie, said they were giving up hope.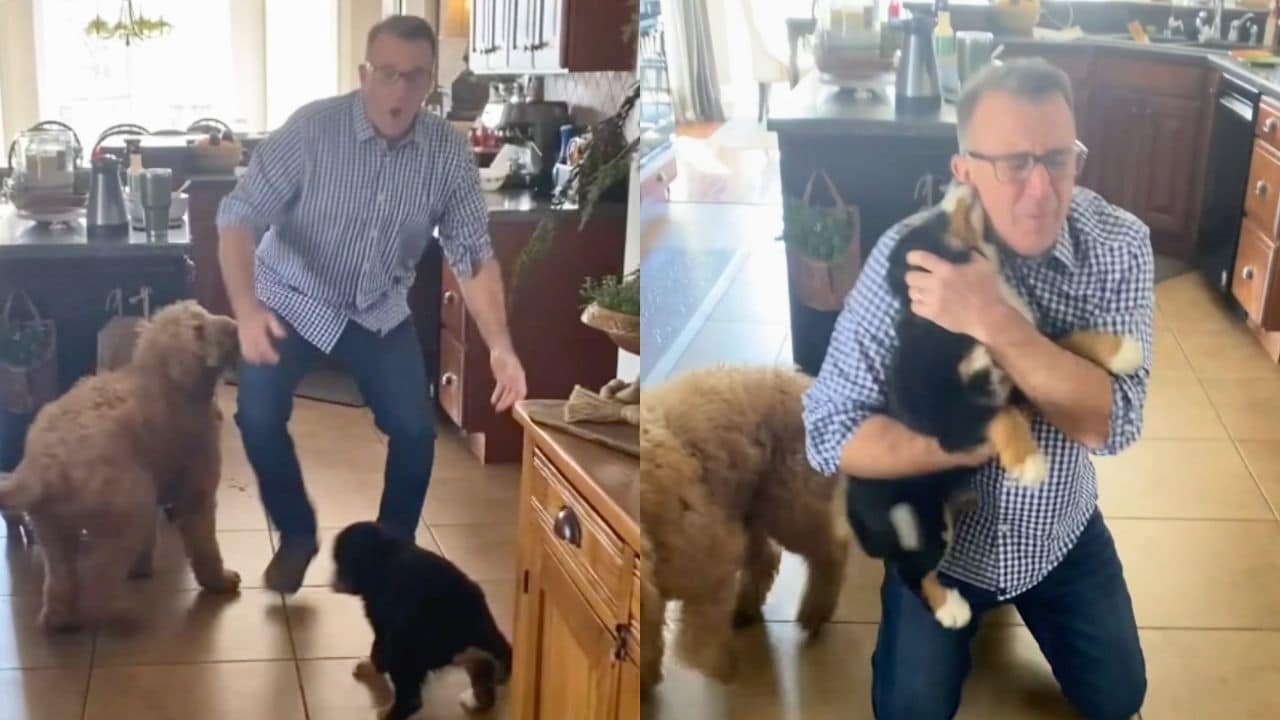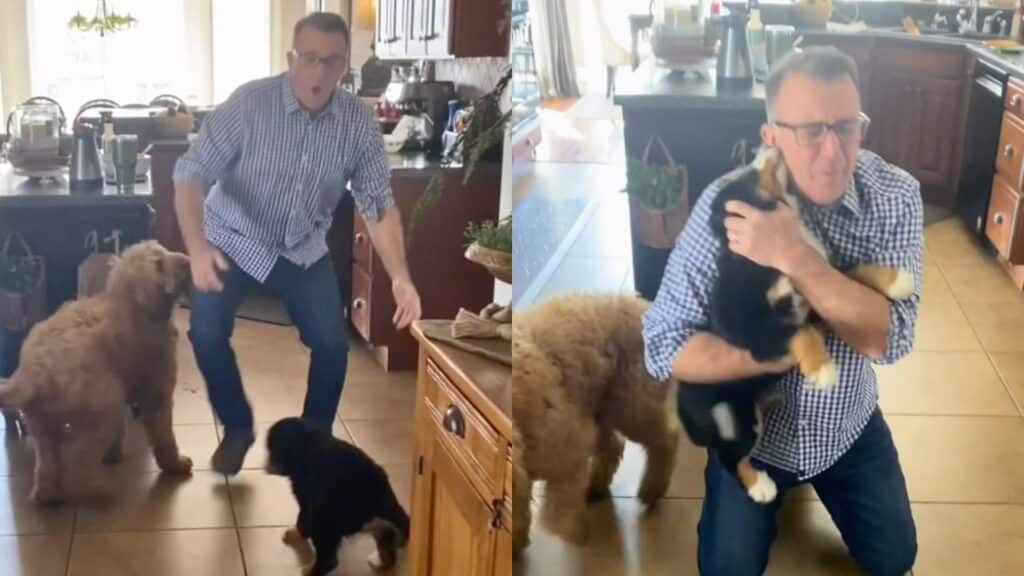 RELATED: Dog Rescues Tiny Kitten From Rain, Brings It Home
According to the family, the cold temperatures were not working in their favor, and the help of friends and even bloodhounds to search for Marley's scent brought no luck.
But around noon on Tuesday, Stephanie received a phone call from her sister, saying that another neighbor had seen Marley and brought her to their house.
In disbelief, Stephanie asked to FaceTime the woman – and, sure enough, there was Marley.
Knowing how much Marley meant to Wade – who had spent six months waiting to adopt a Bernese like Marley in 2020 – Stephanie decided to keep the reunion a secret.
She decided to capture the reunion on film, which was then shared on the social media channels of their family's business, Glamour Farms Boutique, a women's clothing store.
On TikTok alone, the post received tens of thousands of likes and an outpouring of support.
Wade, speaking of his reaction, said: "I was in pure disbelief. I'd given up all hope.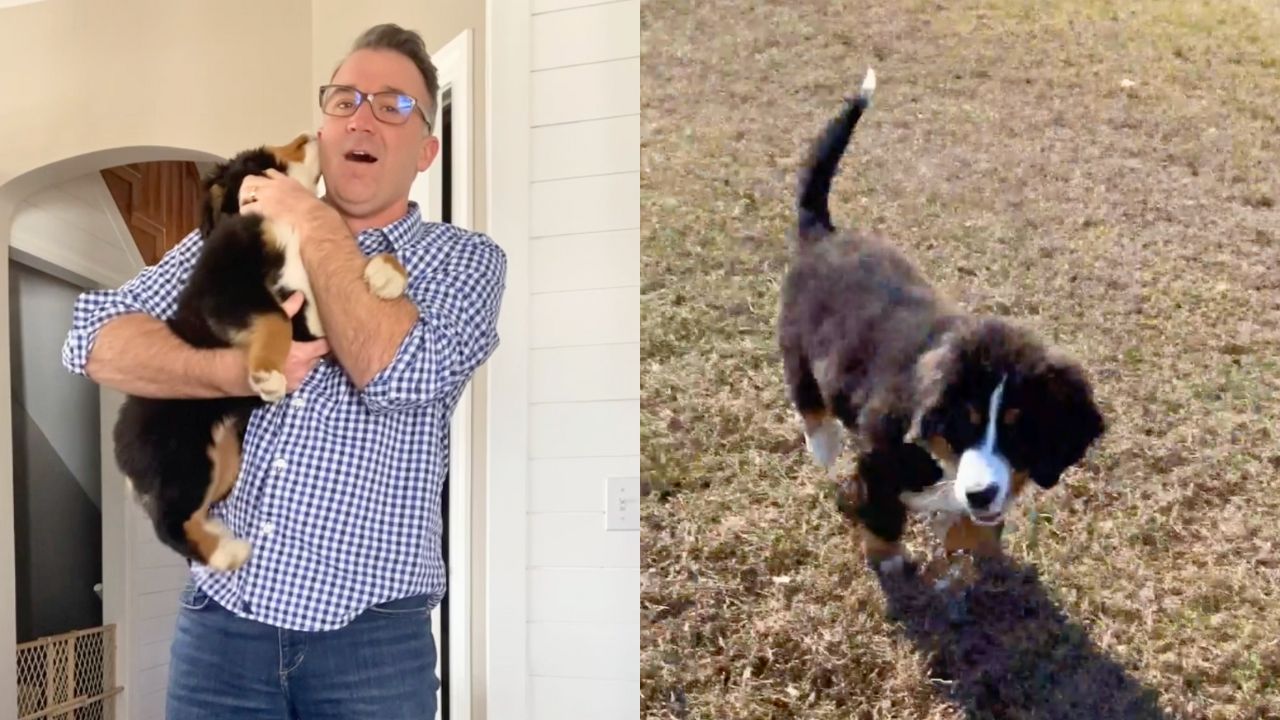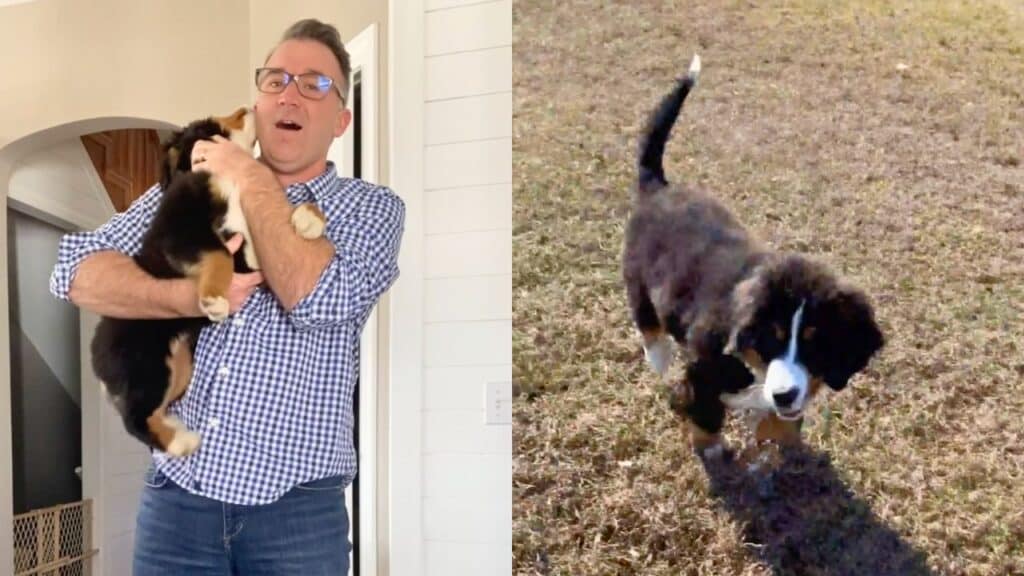 RELATED: Golden Retriever Who Carried Stuffed Dog Toy for Years as Companion Wags Tail With Joy When He's Surprised With New Puppy to Play With
"My emotional response was, in part, the agony of losing a precious puppy I'd invested so much time and training in the last 30 to 40 days. You just bond with them.
"I had completely convinced myself she was gone for good.
"Dogs truly are man's best friend, and Bernese Mountain Dogs are a special breed that really crave the love of the whole family but really bond with their caretaker and that was my connection with Marley.
Stephanie said: "I just kept praying so hard. He needed her to come home.
"The reunion was seriously one of the best moments in life to date. Emotional, heartwarming and Hallmark-like.
"The response to the video has been crazy!
"Wade can't go anywhere without people talking to him about it. Everyone just says it was so real, vulnerable, made them cry.
"People connected to it on many levels but especially the connection of the love of our dogs."