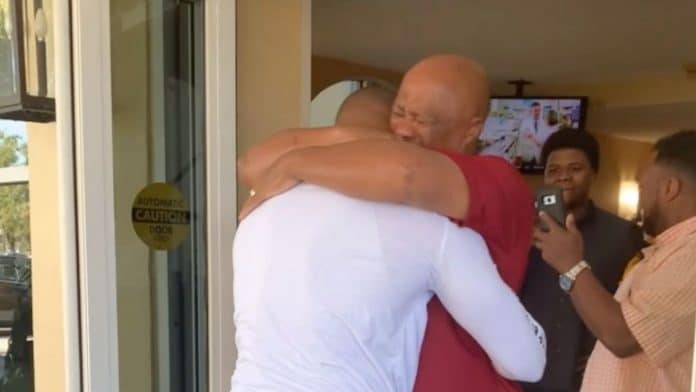 An emotional son wept on his biological father's shoulder as he finally got to hold the man, he had been searching a quarter of a century for. 
Kyle Rashede King, 29, finally reunited with his dad Roberto Antonio Castillo, 57, after his wife Stacy chanced upon his profile on social media.
Kyle had not seen his father since he was around four or five.
And his wife Stacy says Kyle struggled throughout his formative years without a father figure in his life.
Roberto initially had contact with Kyle in his early years – interactions Kyle could not remember – but when his mother moved from their home in Liberty City, Miami, to the Bahamas, Kyle lost all contact.
By late 2019, Kyle said he had given up hope of ever finding his father, having been left angry at the thought of the man who he believed had abandoned him.
The only memento Kyle had of Roberto was a photo of him when he was a similar age to Kyle now. 
One evening, as Kyle played Call of Duty at his home in the Bahamas, Stacy sat in the corner of the room, scrolling through Facebook.
She said to her husband, "Hey, baby, what if I found your dad?"
Kyle, believing his wife's comments to be a joke, thought Stacy was referring to the man who had raised him – but she was actually referring to his biological father.
Then, after a few seconds of realization, Kyle grabbed Stacy's cellphone and gave a simple, unemotional, "Yeah, that's him," in complete shock.
Stacy asked if Kyle was sure, and he responded: "Look at him – we're twins!"
Kyle recently explained: "A chapter of my life that I had wanted to close was now open." 
Stacy, 29, then told Kyle that she had, in fact, been searching for his father for a number of years, as she had noticed how not knowing him had impacted her boyfriend.
Having searched through social media, Kyle discovered Roberto is a pastor and that he also had siblings – two younger brothers and one younger sister – and a stepmom.
He did not want to reach out directly, and so Stacy contacted Roberto's sister, who then put the pair in touch.
In their initial contact, both Kyle and Roberto said they forgave each other, allowing them to arrange to meet at La Quinta Deerfield Beach, Florida, around Thanksgiving last year.
Both men wept as they were finally reunited, and since then the family have been making future plans together, Kyle also calls his father most days to tell him that he loves him.
Stacy, who captured the reunion on video, said Kyle has received outreach from a number of people in similar positions to how he was, lost in search of a relative.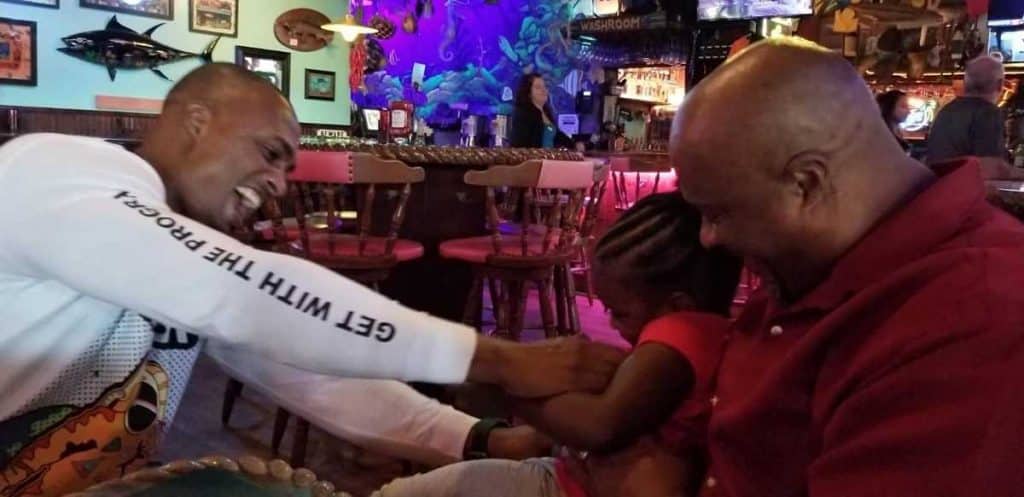 Kyle, who lives on the island of Grand Bahama, said: "When I saw his face and looked into his eyes and hugged him, I could not hold it anymore.
"My legs got weak and I just let it all out.
"We have a strong father-son relationship and there are no ill-feelings towards him or me on either side.
"We talk almost every day and every time we talk, we laugh, and we encourage each other in the Lord and we never leave without saying to each other, 'I love you.'
"We are just continuing on our relationship each day, but we are in a great place." 
Story courtesy of T&T Creative Media