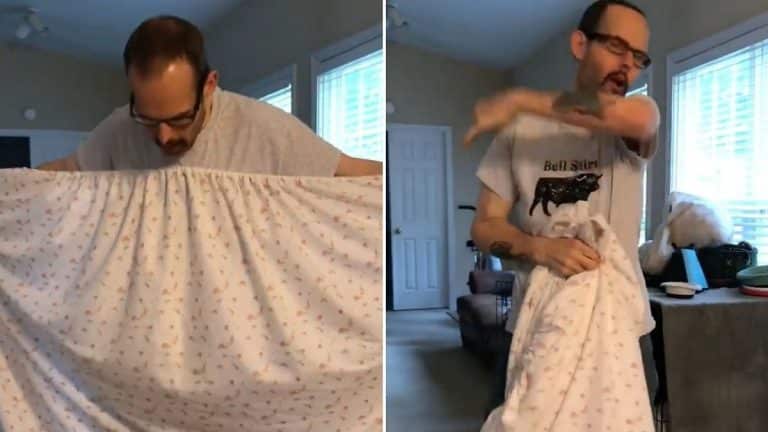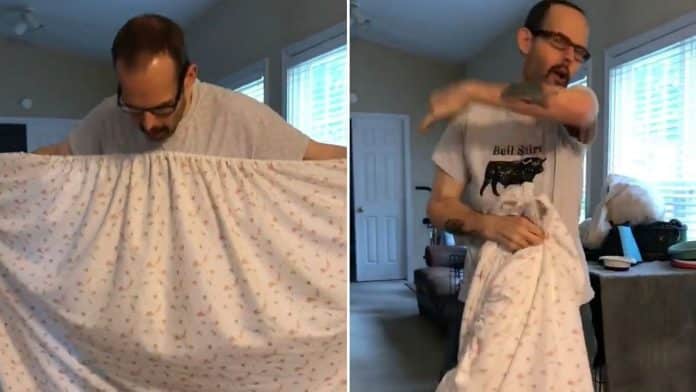 A wife has filmed her hopeless husband's two and a half hour attempt to fold a set of fitted sheets.
The hilarious clip, recored by Tina Cline, shows her husband Michael bemoaning his "aching back" as he flips and flaps with the floral sheets.
Chuckling at Michael's increasingly frustrated state, she tries to catch him through the process to no avail.
According to Tina, Michael spent two and a half hours folding the set of sheets – over multiple attempts – before finally managing to neatly fold them into a square.
Tina, from Atlanta, Georgia, said: "I couldn't help but get so tickled at his relentless efforts to correctly fold a fitted sheet.
"He tries over and over again to do it while we go through the feelings of amusement, laughter, and frustration of two and a half hours worth of attempts. I can never help but watch and try to instruct him because he refuses to accept defeat."
Michael, who has suffered years of painful back pain and multiple surgeries, was forced to learn the domestic skills after being unable to continue his
Michael, who has suffered for many years with back pains and has undergone multiple surgeries, wanted to learn the domestic skills so he can pick up the slack at home after having to give up his job as a master technician.
His wife Tina, who was previously a homemaker, became the main breadwinner after Michael's surgeries.
But galant husband Michael refused to stay down and decided to train himself in the domestic way of life so he can take care of the home while Tina is at work.
Tina added: "Michael Cline has gone through many years of painful back surgeries and while he has always been the major breadwinner for our family, we have had to switch roles.
"He now takes care of most of the domestic duties while I provide the income for our family.
"For the first 23 years of our marriage I was afforded the luxury of being home to take care of our growing children and all of the home duties.
"But for the last five years he has struggled to catch up on what it requires to keep up a home. He has been at a disadvantage because his body has been limited on what he can physically do not to mention he hasn't exactly loved switching roles.
"Bless his heart, he tries so hard! And he is a perfectionist to say the least."
Eventually, as Michael gets to grips with the tricky fitted sheet his multiple practice attempts pay off – and he nails the folding.
Overjoyed at his long-fought success, he shouts, "Baby!" as he admires his work. A received Tina congratulates her husband saying: "Nice job, old man!"