This is the moment the Greatest Showman, Hugh Jackman, gave one lucky lady her greatest surprise – by stopping his concert to help a doting man with a surprise proposal.
Sanaa Ahmed, 24, was stunned when Jackman stopped his concert in St. Paul, Minnesota, on June 22, only to walk from the stage towards her and her now-fiance, Joe Kripal, 25.
Little did Sanaa know that months earlier, in December 2018, Joe had begun work on a plan to have Jackman, Sanaa's favorite celebrity, help with the big moment.
In the clip, Jackman explains to the audience, "I don't usually do this," before telling a story of how he had received a letter from Joe months earlier, asking for help.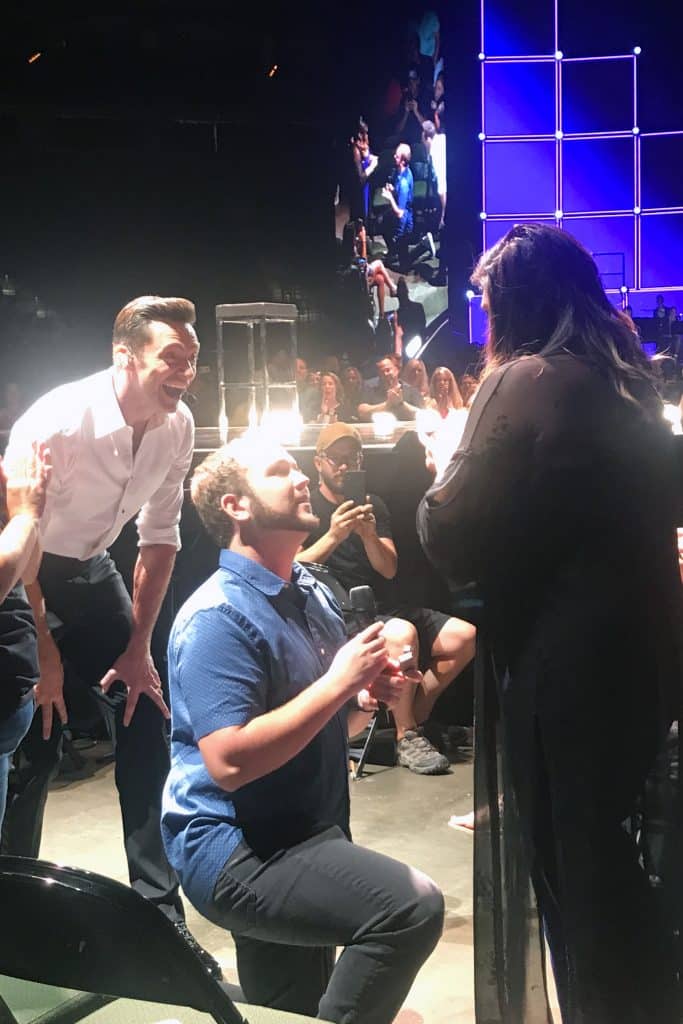 Introducing Joe to the audience, Jackman passed him the mic – all while Sanaa stood with a shocked look on her face, her hands covering her mouth.
Then, with family members surrounding the pair, Joe got down on one knee and popped the question to a tearful Sanaa, who said 'Yes'.
The crowd at the Xcel Energy Center then erupted into a round of applause.
RELATED: Probation Officer Left Speechless As Boyfriend Let Into Court In Shackles… But It's Not What She Thinks
Joe, who lives in Omaha, Nebraska, said: "I had butterflies like crazy, and my heart was pounding out of my chest.
"I knew Sanaa would say Yes – I was just nervous doing this in front of 14,000 people.
"I love how genuine of a guy Hugh Jackman is – the entire time it didn't seem like something he felt that he had to do, but something he wanted to be a part of."
Having seen Jackman in concert in December 2018, Joe found his production team after the show and asked if they would be willing to help him pop the question.
Within a few days, Joe had heard back from the team to inform him that Jackman had agreed to help.
Sanaa is a fan of Jackman because of his kind-heartedness, she said, as well as how genuine he is both on stage and on the big screen.
Joe added: "During intermission and after the show, we had at least a hundred people come up to us to congratulate us.
"We've both had quite a few family members friends say that seeing the video brought them to tears and they were shocked that everything went off so perfectly.
"I actually had one of my friends record a group of my friends watching it over and over – they were all freaking out it was really cool to see."
Story courtesy of T&T Creative Media