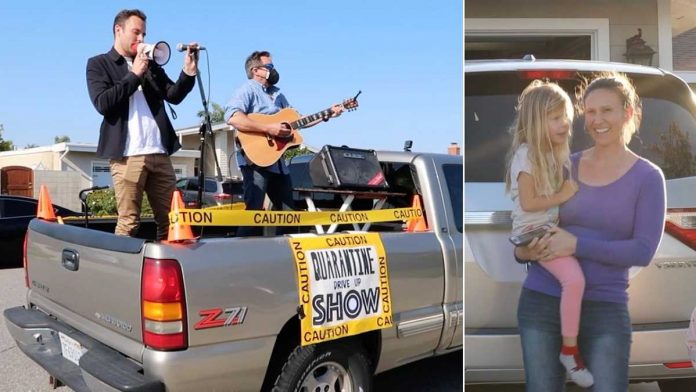 A musical family hosted a drive-by concert from the back of their pick up truck to entertain residents stuck in quarantine.
With the COVID-19 pandemic shutting music venues across America, Tanner Howe, a part-time waiter and musician from Huntington Beach, California, decided to bring his usual performances to others – on the back of his truck.
Tanner had been feeling the sting from the coronavirus outbreak so he opted to come up with a way to boost his and others' spirits.
Having performed in his family's band as a child and as part of a double-act with his father, Kirk Howe, 57, in his adult years, Tanner, 27, was having a jamming session when they began thinking about the relatives they missed.
So, with lockdown still in place, they decided to bring Tanner's music to others.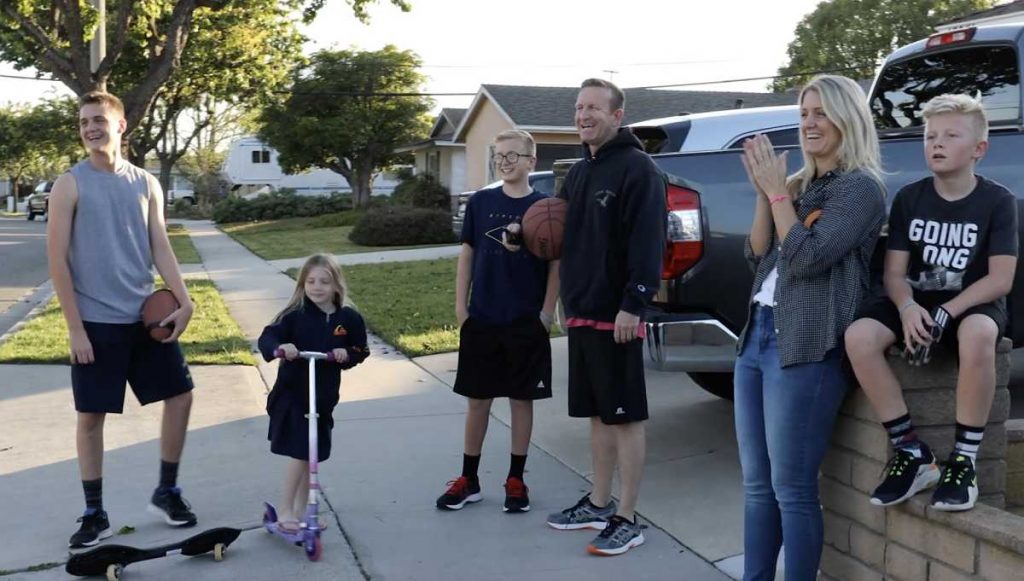 Tanner and his father stood on the back of their family's pickup truck with their usual instrument setup, and a sign reading "Quarantine Drive Up Show" stuck to the side.
The pair initially planned to visit Tanner's grandparents and four sets of family friends in the Long Beach and Orange County area, but as people began to notice the duo, momentum for the April 11 performance grew.
Tanner's girlfriend, Alyssa Clark, and his brother and sister-in-law, Hunter and Candise, filmed people's wholesome reactions as Tanner's mother drove the truck.
The footage they captured shows people dancing, smiling, laughing as they bring a concert to their doorstep – all while adhering to social distancing guidelines.
As a heads-up, Tanner and Kirk had told friends and relatives to be home because they had something they needed to drop off.
A particular favorite song that Tanner and Kirk covered was Justin Timberlake's "Can't Stop The Feeling," which got people on their feet.
Tanner said: "When we began singing and I noticed other neighbors slowly popping out their doors and looking out their windows.
"They were smiling and clapping along.
"We drove down the block and saw a group of kids outside washing the car, so we decided to stop and sing for them.
"Their reaction was priceless and revealed to all of us how import this drive up was going to be to those who are sad, lonely and in need of a pick me up.
"We initially only had four scheduled stops but while on the trail we realized we were close to other friends and saw other families in their yards so we added some additional stops.
"We knew at this point that we would need to do more, it was obvious that at this time people needed a reason to dance and to smile."
Story courtesy of T&T Creative Media