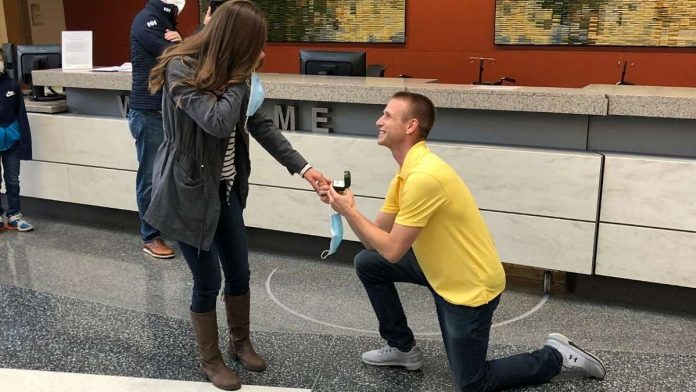 A police detective who was shot in the line of duty decided to make his discharge from hospital extra special by proposing to his shocked girlfriend.
Richard Hershey, 29, a detective with New Jersey State Police, was rushed to Cooper Hospital, in Camden, New Jersey, after being shot investigating a mobile home invasion.
During his time in hospital, he was not allowed to see friends or family because of COVID precautions.
Richard, who had been planning to propose to his girlfriend Nicole Grazioli, 28, for some time, but because of the coronavirus, the perfect time or place had evaded him.
Having spoken to Nicole via phone calls and FaceTime every day during his 11-day stay in the hospital, the detective decided to turn a negative into a positive.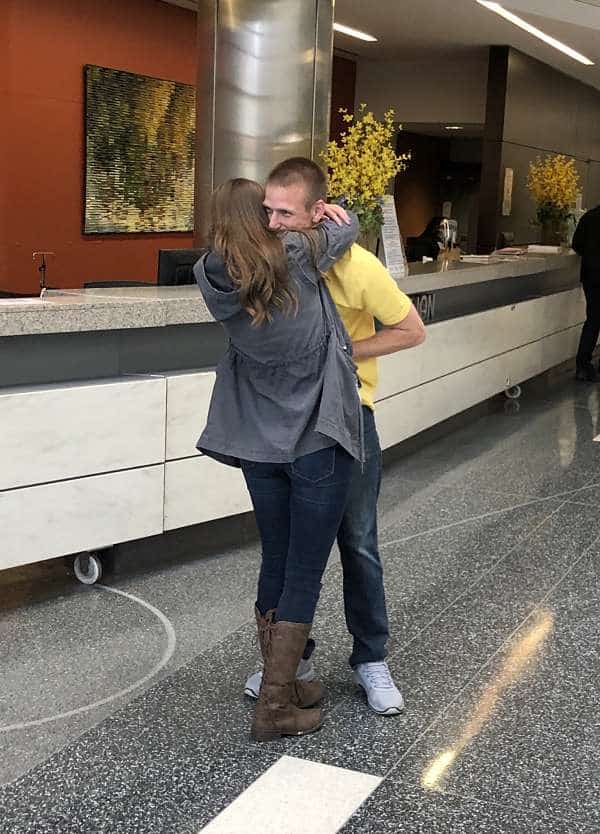 So, after being discharged on May 6, Richard dropped to one knee as he reunited with Nicole for the first time as he left the hospital and popped the big question.
Nicole, crying in disbelief, said yes to her new fiancé.
Speaking of the surprise proposal, Nicole said: "I was completely overwhelmed. 
RELATED: Woman Surprised With Proposal As She Enters New Home For First Time
"I was nervous and anxious to see him in one piece and coming home to me.
"Emotions changed slightly with the proposal – I was still overwhelmed, but completely taken back and shocked.
"After it all soaked in, I couldn't be more happy walking out, holding hands, engaged."
Richard had purchased the engagement ring before the coronavirus outbreak and had been waiting for the opportune time to propose.
As the shooting case is ongoing, the family said, Richard could not comment on the matter.
According to local reports from the time, Najzeir J. "Naz" Hutchings, 21, of Bridgeton, was charged with attempted murder in relation to Hershey's shooting.
Ten additional people were also reportedly charged in connection to the shooting, which took place on April 25 in Pittsgrove.
The group were allegedly part of a caravan that pulled up to the investigation of a mobile home invasion, leading to Richard being shot.
Nicole added: "After the longest and most scary 11 days of our lives, we realized that nightmares can become reality – but luckily there was a silver lining.
"Life is short, take no moments for granted." 
Story courtesy of T&T Creative Media