A security officer was given a wholesome surprise when his 87-year-old coworker decided to give him a reading from a binder of poems he writes for his wife.
Saxon Porter, 28, was so taken aback by the gesture that he decided to record Richard Ledbetter's beautiful reading, which he then shared on social media to glowing reviews.
Richard's love of poetry initially came out of sadness more than three decades ago. After his first wife passed away in 1987, Richard took up writing poetry as a way to help him express his emotions.
Thirteen years later, though, in the year 2000, it was this fondness of the medium that helped him find love once more at in his local mall in the Utah Valley, Utah. There he met a lady called Esmeralda who was working in a store's jewelry department.
During their first conversation, Esmeralda, 60, expresses that she was a writer of poetry, too, and so the couple would meet up and share their works.
Over the following years Richard would print his poems and keep them in a binder to read to Esmeralda, who he later married.
The theme of these works is usually uplifting – and he loves to see the reaction a person can have when he gives a reading.
At the start of October, Saxon was speaking to Richard about a book he was writing, and Richard mentioned that he had been a writer of poetry for decades.
On October 3, Richard brought his binder to show Saxon, which the 28-year-old said he simply had to share.
RELATED: Matthew McConaughey Surprises Senior Citizens By Calling Their Virtual Bingo Game
The poem Richard read, "A Portrait Of," is about his late wife.
Richard, who is originally from rural Texas, said: "I love sharing my poetry with anyone that enjoys poetry.
"Poetry makes me feel happy and good and I want other people to feel the same way I do writing poetry.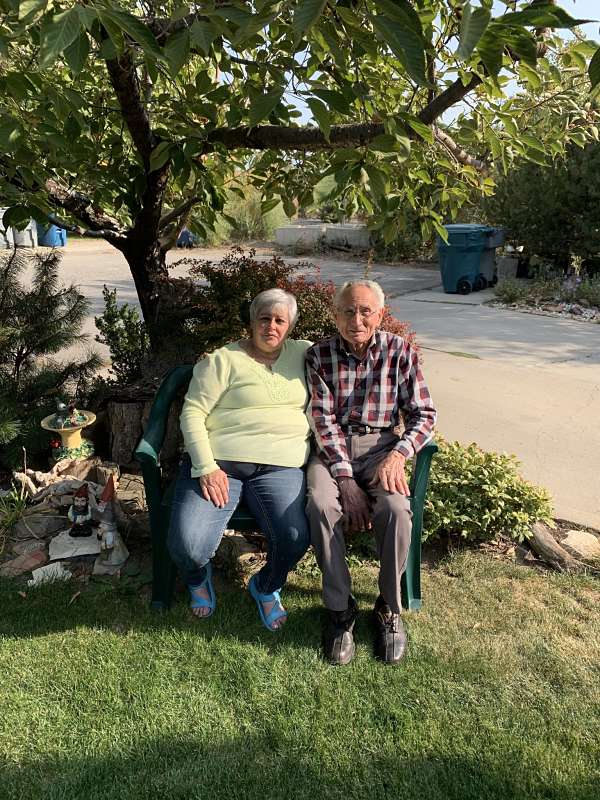 "Lots of people are struggling and going through difficult times and such poetry will hopefully inspire and uplift them.
"I also love to see their reactions, and I like to see how people react and what they say.
"I try to share some of my poetry to connect with what they are going through.
"I'm very happy that people enjoyed the poetry reading and that is the reason I write, to uplift people."
Saxon said: "When Richard started sharing his poetry, I was blown away by how emotional it was and how many poems he had written.
"I remember after he read a poem he had written for his deceased wife: I thought that it was just too good to not share, especially at a time like this – I think people need to see a brighter side of love, life, and relationships.
"I decided to ask him if i could take a video and share it with the internet and he was excited about the idea of people being able to look up his poetry."
Story courtesy of Saxon Porter via T&T Creative Media