A heroic good samaritan has raised $400,000 for a children's home – by saving up scraps and recycling them.
Johnny Jennings, 86, has spent three decades collecting unwanted paper and aluminium to exchange for cash, then gifting the proceeds to the Georgia Baptist Home for Children.
His mission began in 1985 when he visited the children's home and three boys came running up asking Mr. Jennings to adopt them.
Since he wasn't ready to adopt himself, he decided to raise cash to help fund the home's work.
In total, Mr. Jennings, from Ringgold, GA, has collected an astonishing amount of waste and this year his donations crossed the $400,000 mark – an astonishing amount for one person.
Total recycling collected over 32 years by Johnny Jennings:
Total Paper Sold 9,810,063 lbs
Total Pennies $20,275.20 = 24 miles
Trees Saved 79,000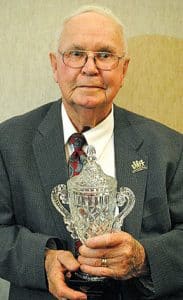 He collects the waste from organizations, businesses and churches, as well as receiving hefty amounts of donations to his home by well-wishers.
The heart-warming story has gone viral thanks to a Facebook post by Shay Drennan-Love.
Georgia Baptist Children's Home President Dr. Kenneth Thompson said of Mr. Jennings' efforts: "He is one of the most gracious individuals I have ever met.
"I have always admired his quiet, humble spirit, his commitment to helping others and most of all, his love for the children in our care."