Japan is widely seen as the most polite nation on earth – but now even the animals are getting in on the act.
A tourist has filmed the moment he bows at a wild deer – before it stuns everyone and bows back.
The deer can be seen bowing its head gently towards tourist Darren Meale, who reciprocates and bows back.
Suddenly the polite deer bows again in acknowledgement as the two go back and forth.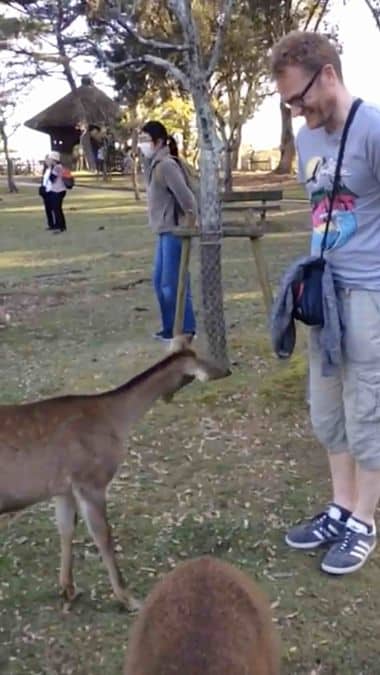 Darren, who was travelling through Japan with his girlfriend Kate Bristow, who filmed the funny encounter, said: "We were feeding deer with official deer food and entirely spontaneously I decided to be very Japanese and bow at the deer – only to find they bow back!"
The wild – but relatively tame deer – can be found in Nara Park, 40-minutes outside of Osaka.
Nearly 1200 deer roam the giant park, and have become a major tourist attraction in their own right, with the deer designated as a 'national treasure'.
Officials at the park allow tourists to buy deer crackers to feed them with, with some of the deer learning to bow as a polite way to ask for food.
Darren, from London, added: "Although you don't see me feed the deer, I can assure you she enjoyed plenty of food from me after."
Story courtesy of T&T Creative Media.