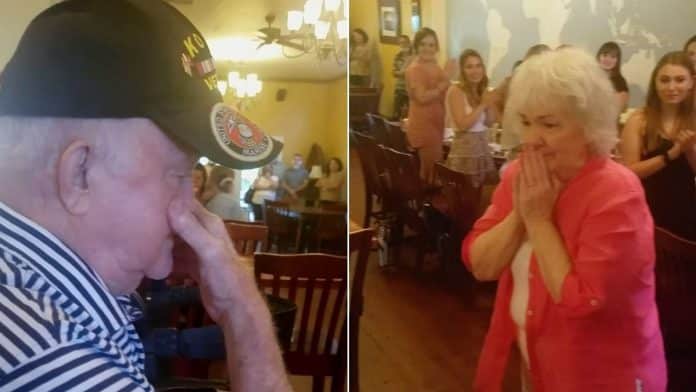 A dying military veteran could not stop crying happy tears when an entire restaurant rose to sing "Amazing Grace" during one of his final meals at his favorite restaurant.
In the emotional footage, Lyle Chauvin, 85, can be seen sitting in the Little Big Cup restaurant in Arnaudville, Louisiana, wearing his Korean War Veterans cap.
Around the room, every other table rose to their feet to sing Lyle's favorite song – a beautiful gesture that had been planned by restaurant staff.
Lyle, who served in the Korean War from 1953 to 1957, has been diagnosed with a brain tumor and given just a few months to live.
On his bucket list, the marine veteran said he always wanted to have a meal at what is favorite restaurant, surrounded by his family.
But due to the coronavirus outbreak, for months the family had to put Lyle's dream on hold.
That was until, on Sunday, July 26, Lyle's children – Jerry, Christina, Duane and Earl – were able to books a table for brunch.
When restaurant staff found out how special of an occasion the meal was for Lyle and his family, they set up beautiful performance, which left many restaurant-goers in tear themselves.
During the performance, Lyle – a shy, humble man, accordingly to his family – looks down at the table and held his wife Gloria's hand.
The family's video was shared with the owner of the restaurant, who posted the footage on Facebook to millions of views.
Lyle and Gloria's other daughter, Becky, had returned to her home in California but was able to view the footage of the moment.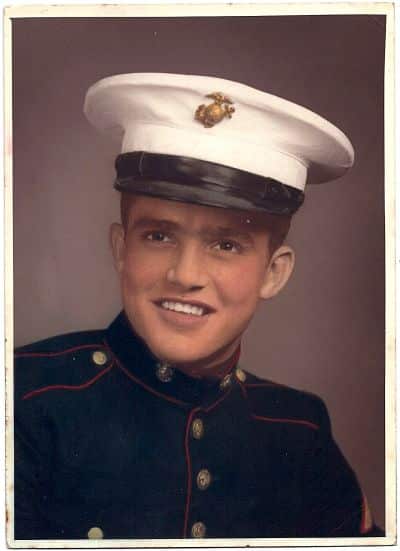 Due to his advanced age, Lyle and his family decided to forgo invasive treatment, and he has instead opted for home hospice care, where he is inseparable from his dog, Breesy, named after quarterback Drew Brees.
Gloria, 85, said: "I don't think there was a dry eye in the place.
"My husband is a private person and didn't quite know how to handle the attention. We held hands and just let the tears flow.
"My heart was overcome with love and compassion for this priceless moment.
"I think this story made everyone realize, life is short, love and respect each other.
"And, if you get the opportunity to honor or encourage someone, just go ahead and do it!"
Story courtesy of T&T Creative Media