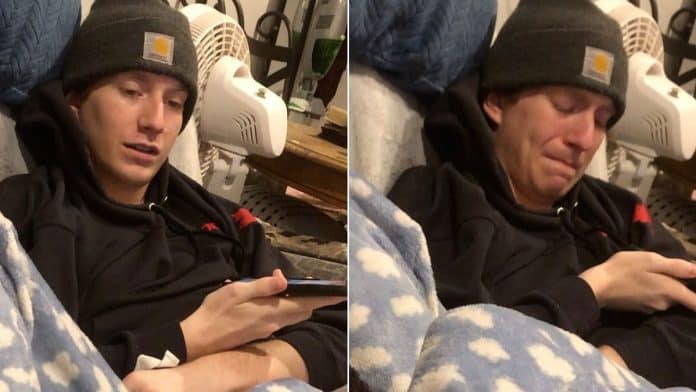 An uncle fought back tears as he pretended to be Santa on a call to his nephew as the boy asked as his only present to be reuniting with his uncle.
Grayson Vachon, 20, is extremely close to his nephew, Braeton, 3, but the pair last saw each other five months ago, when Grayson moved from his hometown in Yorkton, Saskatchewan, Canada, to Victoria, British Columbia.
In the buildup to Christmas, Grayson and his girlfriend Tabatha Hamilton, 20, thought it would be a fun idea to set up a call to Braeton and pretend to be Santa.
Having initially chatted at the start of December – about Christmas trees, decorations, and all things seasonal – the couple decided to arrange a second call, where Grayson playing Santa would check in on Braeton and ask what he wanted for Christmas.
With Tabatha recording the moment, on December 6, they heard a response to the question that immediately brought Grayson to tears.
After Santa had asked the question, Braeton replied, "Uncle G," his nickname for Grayson.
Then, with Grayson's eyes welling up, Braeton then affirmed, "Yeah, Uncle G," while his uncle did his best to hold back the tears and keep up his Santa facade.
Tabatha said: "When I heard Brae say he wanted Grayson home and I saw how emotional that made Grayson, my heart just sank.
"I know how hard it's been for Grayson to be away from home, and to especially be away from watching his nephew grow up.
"I was heartbroken for him, but I was also so touched that out of everything Brae could have asked for, all he wanted was to see his uncle, which is so sweet. "All I really knew in that moment was that I wanted to give Grayson the biggest hug and I wanted him to get home for Christmas, too."
Story courtesy of T&T Creative Media