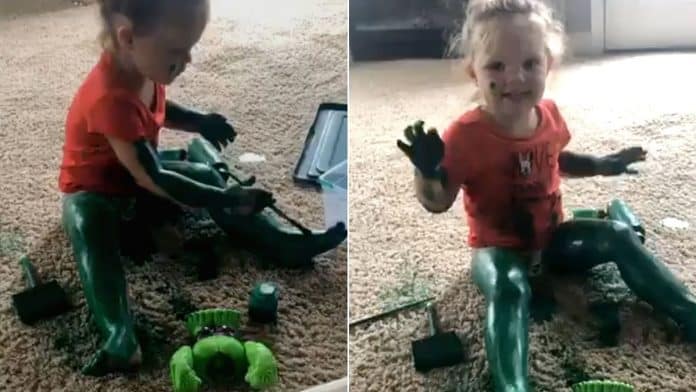 A mom walked in to discover her toddler daughter painting herself bright green like her Incredible Hulk toy – while sat on lightly colored carpet.
Megan Kalbach, from Pennsylvania, US, went upstairs to do her makeup before a lunch meeting and left daughter Bella playing with playdoh in the living room.
She shouted down to ask Bella what she was doing and to come and get dressed, only for her to reply she was 'painting' – causing Megan to rush down to investigate.
When she walked back into the living room, she discovered Bella sat on the carpet painting herself green while sitting next to an Incredible Hulk toy.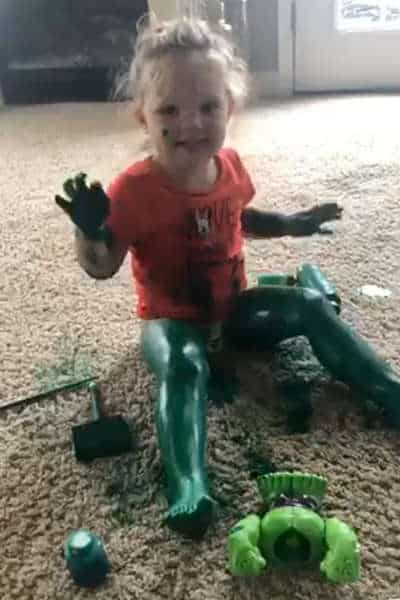 In the video, Megan says: "I'm going to put this on Facebook Live as to calm myself down and everybody can laugh with me" before asking Bella "what did you do?"
After posting the video online, which was viewed thousands of times, many viewers remarked how calm Megan stayed – putting it down to Bella being cute enough to get away with it.
Megan said: "I went upstairs to do my makeup quickly for a lunch and a meeting with a customer and left Bella in the living room playing with her playdoh.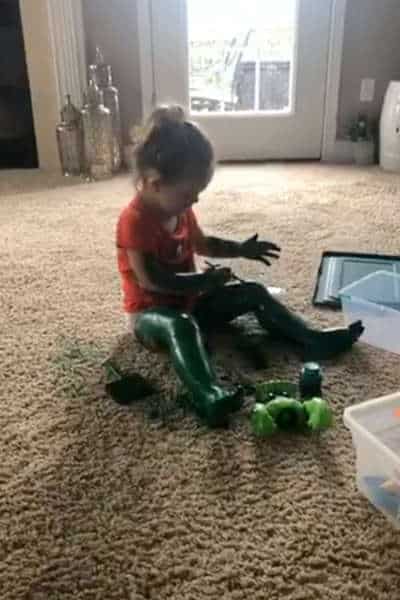 "When I asked her what she was doing from upstairs to have her come get dressed she replied 'I'm painting' and this is what I found when I came downstairs.
"We realized we keep the paint in the same organizer as the playdoh supplies in the basement – she went down to get more play doh, opened the paint drawer instead and the rest is history.
"After I ended the video, I asked her why green and her response was 'I be green like my monster.'"
Now watch the hilarious video
Story courtesy of T&T Creative Media