A teenage boy with cerebral palsy has inspired millions across social media after breaking his personal record for deadlifting in his first-ever powerlifting competition, causing the gym to erupt into cheers.
Fourteen-year-old Mason Braatz, from West Bend, Wisconsin, lifted 235 pounds in the uplifting video, which has been viewed more than six million times on TikTok.
At the meet at Ford's Gym, in Madison, Wisconsin, Mason first lifted 205 pounds and then 220.
For his final lift, Mason suggested 235 pounds – a weight he had never lifted but his coach thought he could achieve because of the adrenaline of the moment.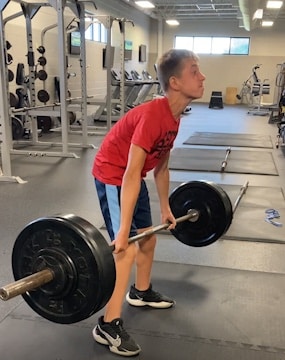 Mason, who only weighs 121 pounds himself, showed strain on his face as he took the bar off the ground, and then, with the support of the crowd, reached the top of his lift after a few long seconds of trying.
The moment took place on March 26, and after posting the video on his social media pages, Mason and his family were blown away by the response.
According to his mom, Sarah, 43, Mason suffered complications during his delivery, which deprived him of oxygen and damaged his nervous system, resulting in cerebral palsy.
Mason loves sports and is extremely coordinated, despite his condition, Sarah said.
He took up weightlifting in the summer of 2021, but it wasn't until he heard of the March competition that he started powerlifting in January 2022 to build up even more strength.
At the competition, Mason – who posts training videos online to show his progress – also completed three sets in the bench press.
Going forward, he plans to compete in more competitions, and he and his friends have reached out to their school to start a powerlifting team.
Speaking of Mason's personal record, Sarah said: "When he started his lift, it was clear that it was going to be a battle.
"Honestly, though, knowing Mason, I knew he was going to fight through.
"What brought tears to my eyes was how the gym erupted into cheers of encouragement and later celebration.
"He did it! Mason's hard work paid off.
"He not only lifted his personal best, but he also proved that he could compete in powerlifting and be successful and feel confident and proud."
Story via T&T Creative Media