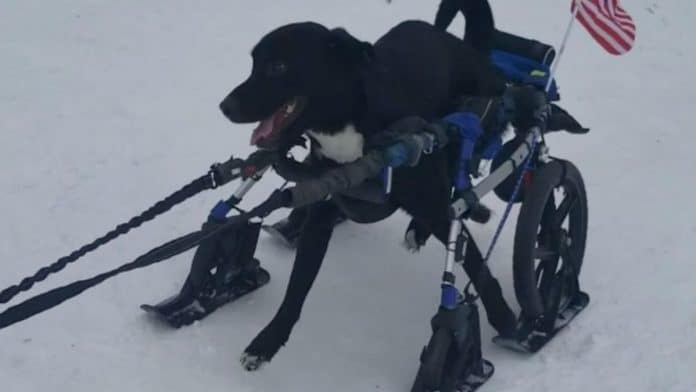 A group of dogs have been excitedly playing in the snow together thanks to a series of modified wheelchairs and some adorable doggy teamwork.
Owner Lary Schuette cares for Helping Hunter, a chocolate lab and cancer survivor; Larry, a miniature schnauzer mix; George, a large schnauzer mix; and Dashing Duncan, a black lab.
Each dog has a disability or an ailment which may make them difficult for many families to consider for adoption, so Lary, 54, has given them a forever home together.
The pals love playing together in their wheelchairs, but the snow presented a new problem – which Lary, from Cannon Falls, Minnesota, fixed by modifying the wheels into skis.
In the heartwarming footage, Larry and George can be seen racing along in their wheelchairs, while Dashing Duncan receives a helping hand from able-bodied Helping Hunter, who pulls him along in his wheelchair.
Lary, who adopted the disabled dogs after his children started to leave home as a way to keep active, have some company and to help those in need, shares the gang's exploits online under the name Our Forever Home For Misfit Pups.
He revealed the attention is great as it allows people to get educated about misfit pups in need.
RELATED: Excitable Dog Is Unable To Contain Excitement As Elevator Arrives With Her "Best Friend" Each Week
He said: "We thought we were helping them, but, in a sense, they were really helping us and others.
"Even after they all suffered some abuse from humans, they still love back unconditionally.
"We have learned these pups do not know they are any different than others; they just make the best of what they have – they love, laugh, play and enjoy life better than most people.
"We do make sure they are not in pain or suffering.
"They really connect with humans with disabilities too – especially children.
"The pups love being out in the snow and we do get a lot of attention that sometimes it feels like celebrity status.
"This is a good chance to educate about these special pups."
Story courtesy of Our Forever Home For Misfit Pups via T&T Creative Media