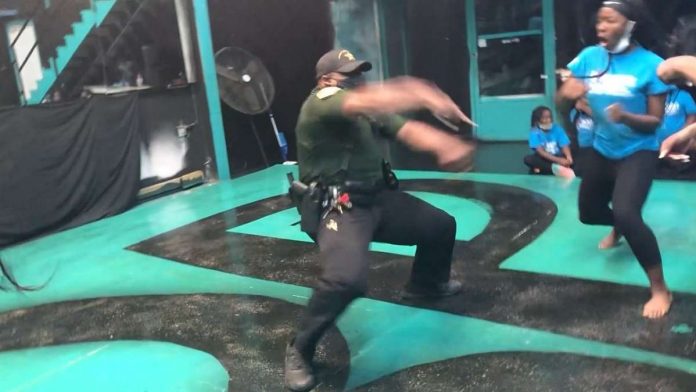 A sheriff's deputy left a young dance group screaming for joy when he bust a move instead of busting them for a noise complaint.
Deputy Romain Brissett of the Escambia County Sheriff's Office was called out when a local resident mistook a Pensacola, Florida dance studio for a nightclub.
A winter timing change was likely at fault for the mistake but as Deputy Brissett went to the premises to confirm his suspicions he walked into the middle of a dance practice.
On the floor were the girls of Pensacola Prancing Pirouettes who immediately noticed him enter the facility and standing in the doorway.
He spoke to the organizers and then asked the girls if they were any good – a challenge the group, known as "Three Ps", were excited to answer.
After showing Deputy Brissett a small performance, the girls then walked over to him and gestured they were challenging him in return – and the deputy suddenly walked onto the floor.
Shay Daniels, 37, who oversees the dance group, admitted she had no idea what was to come next, but as the beat continued, Deputy Brissett suddenly started to break down in dance.
Little did they know in 1998 Deputy Brissett joined all-male dance org while attending a HBCU Florida A&M in Tallahassee.
He started out as a member, became president and then later artistic director with the group performing at homecoming, parades and events in local community.
RELATED: Professional Dancer Goes Viral Bringing Positivity To Others As He Dances His Way Into Cancer Treatment
He even taught dance as part of after-school programs for middle and high schoolers, so as he began to dance the girls let out huge screams in shock sending the entire place crazy.
The group later shared a video of the moment, which took place on December 23, on Facebook.
Shay said: "I hope everyone can see the positive impact this interaction had on our upcoming generation.
"Deputy Brissett's approach to change encounters is similar to ours and his strategic way of handling this situation has affected the entire community.
"Many officers and our younger generation are hungry for unity to change the outcome of each encounter they have.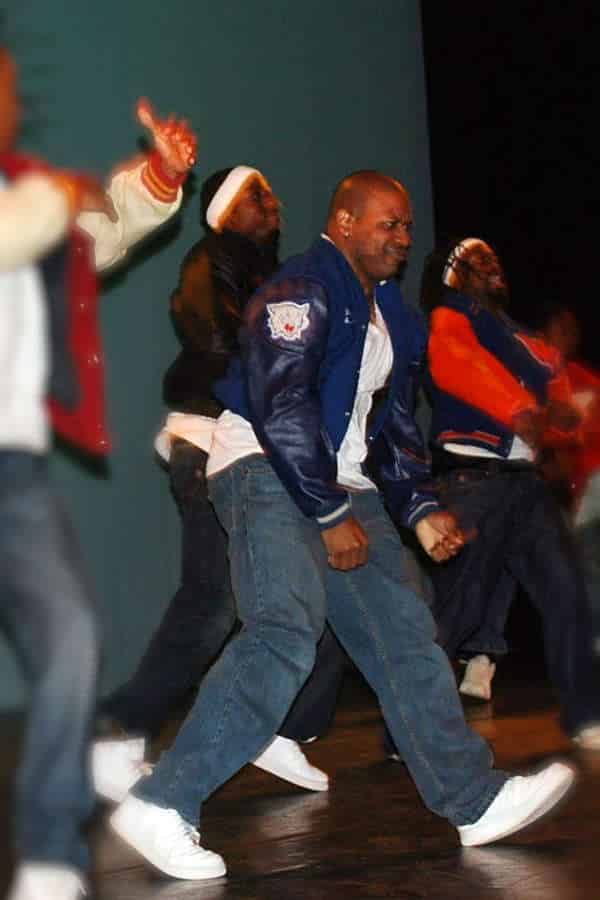 "To us, this was not just a dancing video, it was commendable on Deputy Brissett's humanity and hopefully more deputies and officers will take heed to make each encounter a positive one, to build trust, and establish a better relationship within the community.
"There were many ways Deputy Brissett could've handled the situation.
"By Deputy Brissett stepping to their level, he was able to show that he has respect for what they are doing and could get his point across for us to turn the music down a notch."
Deputy Brissett added: "It made me feel good that I was able to change that look those young ladies had at the beginning wondering what they did wrong to joy and pure excitement.
"I had such a positive connection with them even though it was just less than five minutes.
"The majority of us live in the community we serve so why not support each other that way we all can have a better life in this community.
"It's okay to show the community that we're human and like to have fun doing the things they do."
Story courtesy of Pensacola Prancing Pirouettes via T&T Creative Media