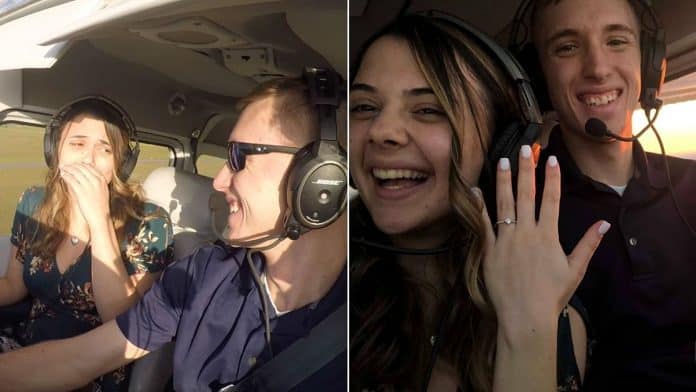 A pilot proposed to his girlfriend at the cockpit of his plane as he buzzed an airfield where his family held aloft a sign reading asking her to marry him.
Jonathan Wilhite, a qualified pilot from Lakeland, Florida, secretly arranged the big proposal for girlfriend Lexi Meridionale with the help of their family and friends.
Incredibly, he teed up the stunt a year earlier on New Year's Eve 2018, when he stated his resolution for the year ahead was to take Lexi flying.
Purposefully, he avoided taking her on a flight until the following New Year's Eve when he asked his girlfriend if she had completed her resolutions.
As they discussed it, Lexi quickly pointed out Jonathan hadn't kept his resolution, so he pretended to quickly arrange a short notice flight to fulfil it.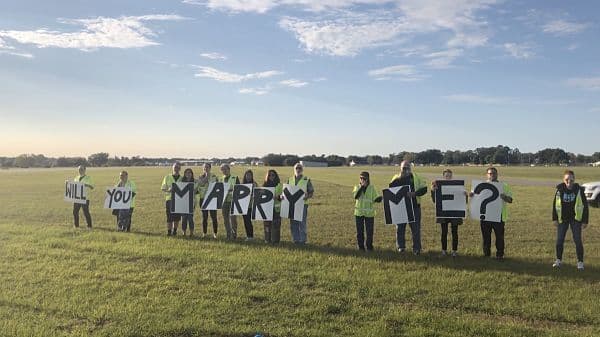 As they took off from Lakeland Linder International Airport, Jonathan flew them over some of the local sites including Disney World, Disney Springs, and Bok Tower.
-Scroll down to see romantic video below-
But descending into the nearby airfield of Winter Haven Regional Airport, Lexi spotted a group of people stood at the fringe of the runway.

Concerned, she let Jonathan know, who buzzed the airfield so they could take a closer look.
As the flew past, Lexi was gobsmacked to see 15 people holding up cards that spelled out: "Will you marry me?".
Lexi said: "I was in shock and immediately started crying out of happiness."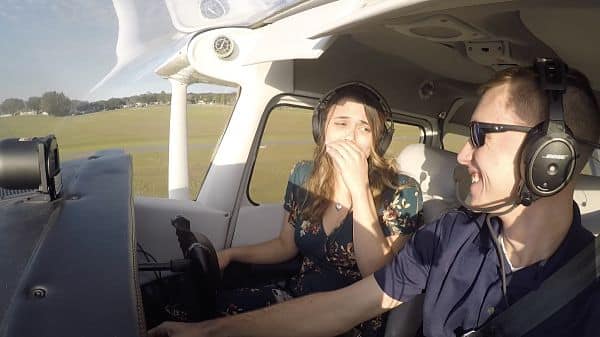 The couple met in 2017 while on a missionary trip to East Asia.
Jonathan decided to pop the question after they had been dating for two years and meticulously planned the big reveal.
Drafting in the help of his parents, siblings and Lexi's parents and friends, he set about arranging for the last-minute flight.
Using the cover of his boss allowing him to use his plane at short notice to complete his 2019 new year's resolution, he whisked Lexi into the skies.
And Lexi admits she was completely none the wiser, adding: "I was taken aback when he said he'd managed to arrange a flight that day [New Year's Eve 2019].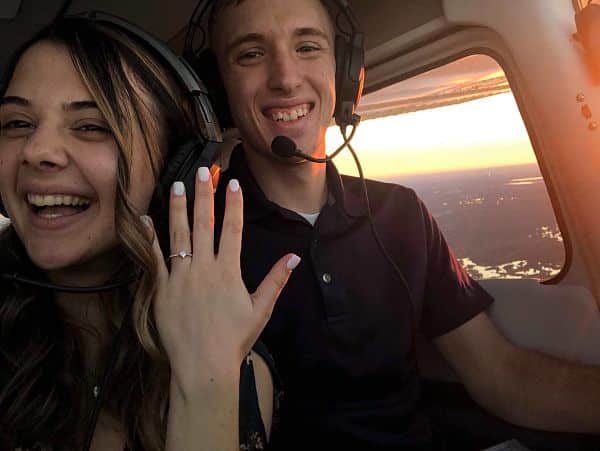 "it seemed impossible, but Jonathan made an excuse that he had spoken with his boss a few minutes prior and he'd said Jonathan could fly his plane that day.
"We were flying for an hour, taking in all the prominent locations in our area, when Jonathan approached winter Haven Regional Airport.
"I started to become curious why we were descending on a different airport to the one we had taken off from.
'I was asking if we were landing, but Jonathan kept pressing on to keep his big secret going by making an excuse that he wasn't landing, and this was protocol when flying over an airport.
"But as we got lower, Jonathan said, 'That's a lot of people', which is when I saw about 15 people stood in yellow vests on the side of the runway holding up the signs.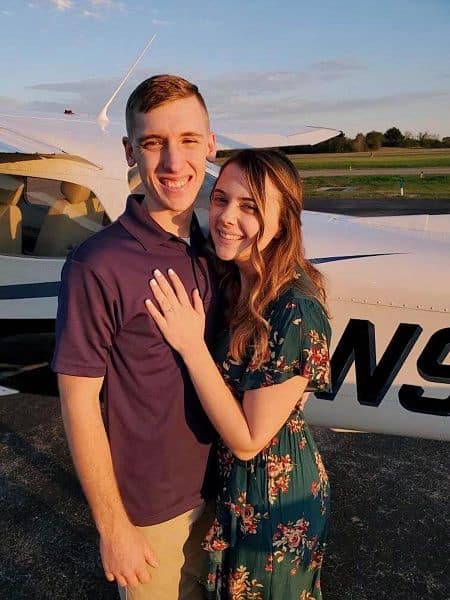 "At first I couldn't read it, but as we got closer, I could see it spelled out 'Will you marry me?'.
"I was completely taken aback and said yes!"
The people stood on the side of the runway were Jonathan's parents, brother and sister in law, as well as Lexi's parents, brother in law and sister, alongside all of their close family and friends.
Once Jonathan eventually landed the plane for real, he got out and dropped to one knee where he officially proposed, with an emotional Lexi immediately accepting.
Lexi said: "This was a beautiful surprise.
"It was so perfect and better than I ever imagined."
Story courtesy of T&T Creative Media.