A man looks unrecognizable due to an incredible transformation after letting his wife cut his hair for the first time in two years to thank her for helping him recover from a stroke.
Vincent DeMarco, 39, from Orlando, Florida, suffered a stroke on August 5 after just having COVID-19 and was rushed to the ER after losing control of both his body and speech.
His wife, Christina, was in shock when it happened as everything was normal that morning – but within an hour and a half, she was at hospital with Vincent who underwent multiple CT scans.
Medical staff discovered he had blood clots in both carotid arteries as well as a blood clot on the brain which is what caused the stroke.
READ MORE: Baby Has Adorable Reaction To First Haircut, Giggling Throughout As Barber Trims His Long Locks
Since the huge scare, Vincent has been recovering at home with medication whilst Christina has been taking care of him, his mom, their one-year-old son Roman and both their businesses.
To return the kindness he received from his wife he decided to surprise her but being confined to their home on doctor's orders he needed to get creative – so there was only one thing for it.
Vincent had let his hair grow long for over two years and as a hair and makeup artist, Christina had been begging to cut it back to how he looked when they got married.
Therefore, on August 13, Vincent surprised Christina by asking her to cut his hair, and as her eyes lit up with excitement, she ran to get her scissors and set everything up.
As Vincent's hair was past shoulder length it took around an hour to cut but as soon as she had finished, he looked unrecognizable.
Vincent said: "I was kind of having an out of body out of body experience, because my mind was there but couldn't control my words or how it was talking.
"And then I was wanting to do stuff with my hand and I wasn't able to – I couldn't even control my own body it was the scariest experience.
"Then with all this going on I'm thinking about my wife, my son, my mom, and just what's going to happen? Is today my last day?
"Christina said something to me that really calmed me down because I was stressing out, she said 'I don't care if me and Roman live in a cardboard box as long as you're still here.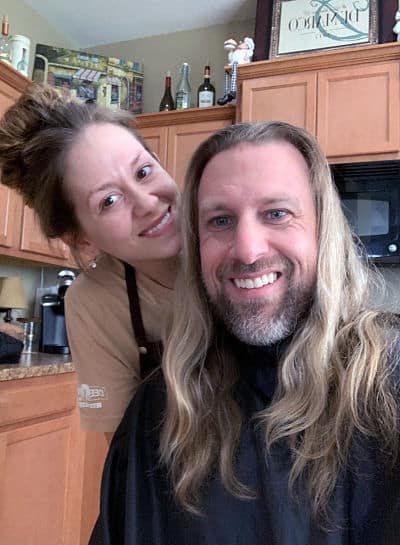 "She didn't really get time to process her own feelings because of everything and I was on strict doctor's orders not to do much so I thought, the least I can do right now is let her cut my hair."
Christina added: "It was the most surreal experience I remember a moment where the doctor was looking at me talking to me and I felt like I was watching myself from outside of my body.
"I was just thinking this is not my life, how are we here? Everything was normal when we woke up and within an hour and a half, we're sitting in the ER being told my husband had a stroke.
"It's such a roller coaster of emotions because you're terrified, you're worried, you're confused how this is happening, but you can't grasp it because it's moving at such a rapid speed.
"When he was standing there telling me I could cut his hair I was thinking 'oh my gosh, are you serious?' as I've been asking for this forever.
"He laughed because he said he's never seen me move so fast.
"I always love him but when I cut it, I was like – there's my husband."
Story via T&T Creative Media