This is the moment an adorable kitten trapped in a storm drain is rescued by a kind-hearted savior.
Ed Smith, an Animal Control Officer at the Humane Society of Carroll County in Maryland, USA, was called by passersby who watched the kitten run down a storm drain dazed after being hit by a vehicle.
The tiny kitten could be heard meowing for help in the deep underground storm drain beneath the road.
With the help of a State Highwayman, the team of rescuers were able to lift the manhole cover before Ed descended down into the storm drain pipe.
At first, they attempted to lay a harmless trap and entice the kitten in so they could haul him up.
But when that failed, Ed volunteered to descend into the tight drain.
The video shows him at full stretch crawling into the tunnel before he is able to grab the frightened kitty.
Slowly edging his way back out, he eventually emerges with the little critter in his hand before passing him to a fellow Animal Control Officer.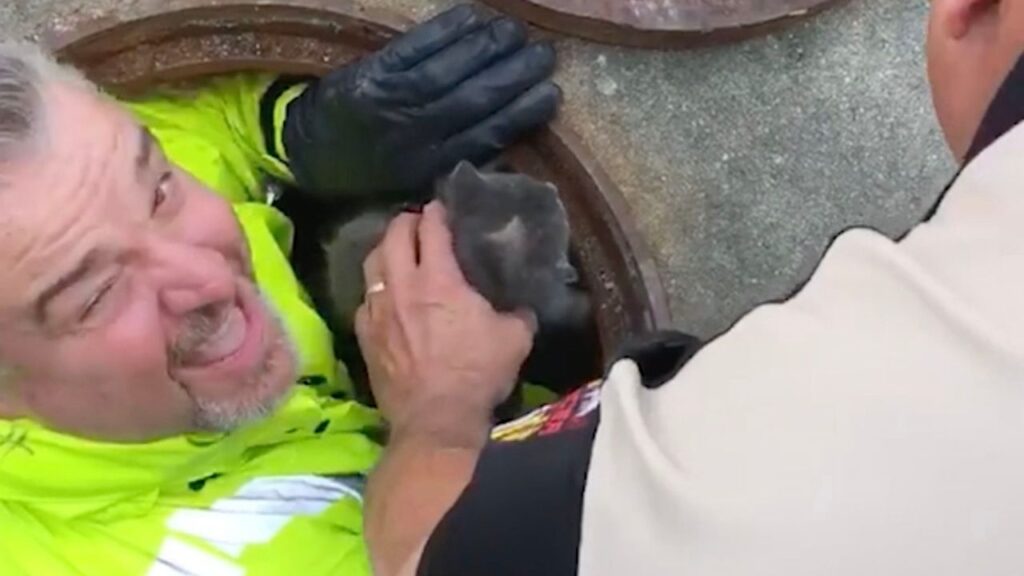 RELATED: Hero Husband Rescues Kitten from Freeway
Ed, from Maryland, USA, said: "We tried to coax out the kitten and placed a trap into the drain to capture him, too, but all to no avail.
"I am not much of a cat person, but this was the save of the day.
"The kitten has been vetted and is fine. He was given a nice bath and some rest at the shelter before being adopted by the lady who called us and stayed until we got there."
Ed added: "I wouldn't advise any member of the public to attempt this themselves.
"The lady who witnessed the accident and alerted us to the kitten's plight did the absolute right thing by calling Animal Control.
"It can be incredibly dangerous to enter a storm drain, and only professionals should do so."