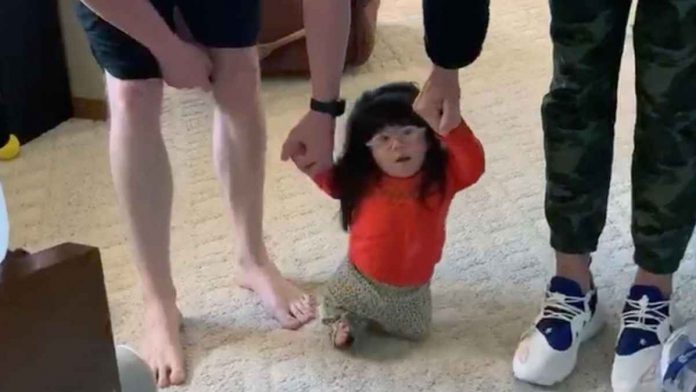 An adorable young girl who was born with no hip sockets has defied doctors' predictions and taken her very first steps.
In the inspiring video, 2-year-old Ava can be seen at her family home in McCalla, Alabama, as her father Matt Hays, 27, and his brother, Luke, 26, hold her hands.
Then, with mom Jennifer and the others encouraging Ava's every attempted movement, the youngster began walking towards the camera to the delight of everyone.
Ava was born with a number of medical conditions – including spina bifida, all elements of VACTERL, femoral facial hypolasia, and a missing right femur – and below the waste she has no muscle tone.
As a result of her conditions, Ava, who has no hip sockets, was told by doctors that she would most likely not be able to sit up, crawl, and especially walk.
But over time, she began learning from her brother Harvey, who himself was learning to walk.
As Harvey began taking steps, Jennifer, 28, said, Ava started to ask, "Walk please" too, before taking her first steps on February 4.
Seeing Ava take her first steps was extremely emotional for the family, Jennifer added, as their daughter has "fought tooth and nail to get to where she is today."
She said: "I was shocked but at the same time not – she is so strong and so very determined.
"I honestly kept saying "Why didn't we try this earlier?"
"Of course, I was also extremely excited, I have watched the video over and over for days crying each time I watched it."
Since taking her first steps, Ava has been given a walker by her doctors and loves the freedom of walking.
Story courtesy of T&T Creative Media