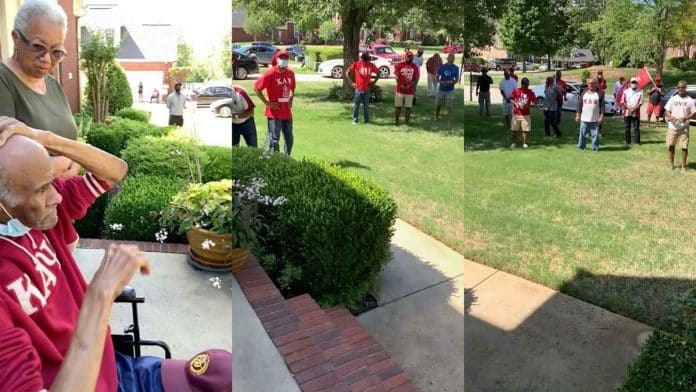 An elderly man suffering from health difficulties was left speechless when dozens of fraternity brothers spanning decades arrived on his front yard to offer their support.
In a powerful moment captured on video, Benjamin Raymond Harrell looks out in disbelief at the sea of red in front of him, declaring that he was completely overwhelmed.
Red is the color of the Kappa Alpha Psi Fraternity, and Benjamin (Alpha Theta '67), a lifetime member, has regularly helped other members with everything from career advice to life lessons and sharing connections.
Down the years, Ben, 73, has also been a proud donor to the organization and a very active member of the community.
But because Ben is a cancer survivor and suffering from chronic cardiovascular disease, he was restricted from leaving his home because of the COVID-19 pandemic.
And so, after Ben – who is known as Ray or Uncle Ray to his friends from the fraternity – had been hospitalized for around 30 days, his wife Barbara started working with the local Huntsville, Alabama, alumni chapter to ask Kappa brothers if they could show some support.
The surprise was organized for May 24 at the family's Atlanta home, and Ben's son, Brandon – a Kappa member, too – also made the visit from Washington DC.
Brandon said the gesture moved him to tears, and his father was humbled by the gesture.
Brandon, 36, said: "I think this was one of the greatest visual representations of brotherhood and fraternity – from all brothers from all walks of life.
"Seeing over 50 cars drive in a procession all with a singular purpose, to honor a man that means a lot of the fraternity, the community, and his family.
"I hope people can see with all the stuff going on in the world, life is about community, and telling the people in our lives how we feel about them.
"In the era of COVID and social isolation it's more important than ever.
"But my family and the brotherhood of this fraternity has really been a great support system for us – seeing the outpouring of support has really inspired me."
Barbara added: "I was in on the surprise and thought it was a wonderful idea since Ben is such a people person and was feeling isolated because of the COVID restrictions.
"He had been hospitalized for 30 days prior to this great tribute to him, and the way it was set up was amazing to watch.
"I could tell that it meant a lot to him to see the outpouring of love and respect from his Kappa brothers.
"He is a life member, proud donor, and was always very active in the community."
Story courtesy of T&T Creative Media