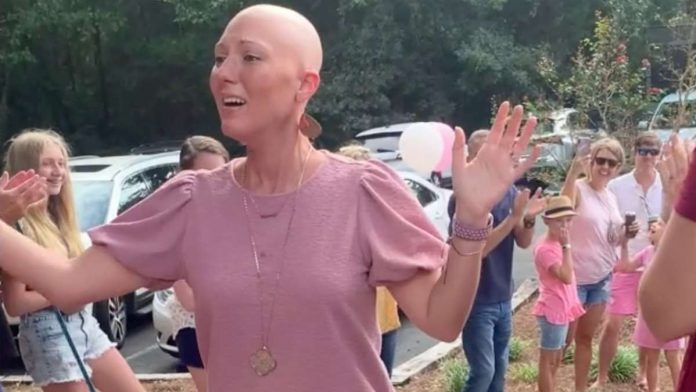 An emotional cancer sufferer could not hold back her happy tears as she was greeted on her return home with a surprise "No Mo Chemo" guard of honor.
Dana McSwain, 37, from Charlotte, North Carolina, was visibly shaken by the wholesome gesture, passing between the lines of friends and family, cheering on her every step as tears filled her eyes.
Once Dana had made it through the crowds of people at a pavilion near her home, on Saturday, September 12, she soon broke down crying in her husband Mike's arms.
Dana has been diagnosed with Stage 2 metastatic breast cancer, and recently she completed her last session of chemotherapy.
But her journey is far from over, as on October 13, she will undergo a seven-hour surgery that will consist of a bilateral mastectomy, temporary breast reconstruction and an oophorectomy, which is the removal of the ovaries and fallopian tubes.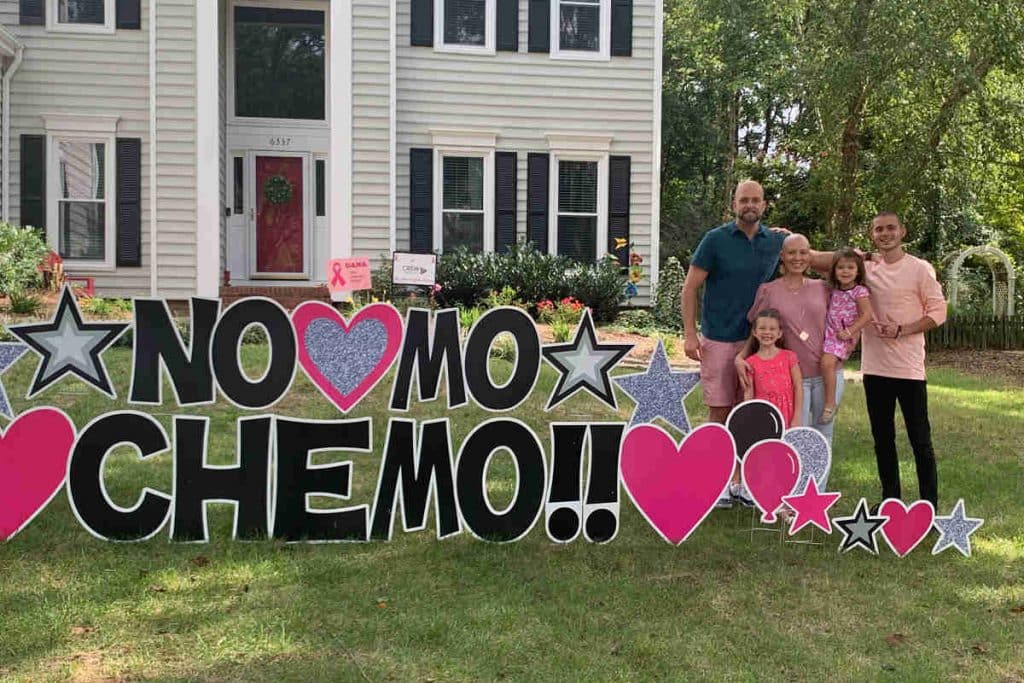 Once Dana has healed from surgery, she will begin daily weekday radiation treatment for six weeks.
Dana said facing such a challenge is extremely overwhelming, and along the way her friends have been right by her side.
Earlier in the year, Dana received national media attention when her friends all chipped in to purchase her a wig made from hair they had donated.
Then, when they heard about their friend completing chemotherapy, one of Dana's friends, Jennifer Hess, secretly helped plant a "No Mo Chemo" yard sign before rounding up friends and family for the big surprise.
Dana said: "I was excited that day to be with my husband, I was also mourning closing that door – I needed some cheering up and boy did I get it.
"I hope that not only from this surprise but by all of us living through a pandemic, we learn to appreciate each day and don't take life so seriously, allow for surprises.
"If you are going through cancer treatment, remember that you are not a victim and do not let cancer define you.
"This is a bump in the road and one that allows us to look back and know that we grew from the fight.
"The comeback will be stronger than the setback – and I will come back."
Story courtesy of T&T Creative Media