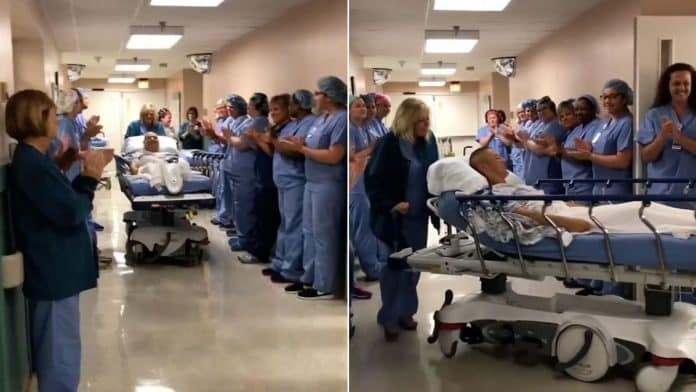 This is the beautiful moment a courageous organ donor was given a guard of honor by hospital staff as she was wheeled into surgery to donate one of her kidneys.
Staff at Scripps Green Hospital in La Jolla, California, hooped, hollered and offered beaming Hayley Gibbons high fives as she was wheeled through the packed corridors in her hospital bed.
READ MORE: Aging Military Dog Gets Hero's Send-off With Guard Of Honor
The guard of honor, captured on May 9, was the hospital's first "Hero Walk" – a way to celebrate those giving up their organs so someone else can have a second chance at life.
Hayley, who lives in Arizona, met the recipient of her kidney at a farmer's market in her home state.
Since the surgery, Hayley is reported to be recovering strongly.
(Courtesy of T&T Creative Media)