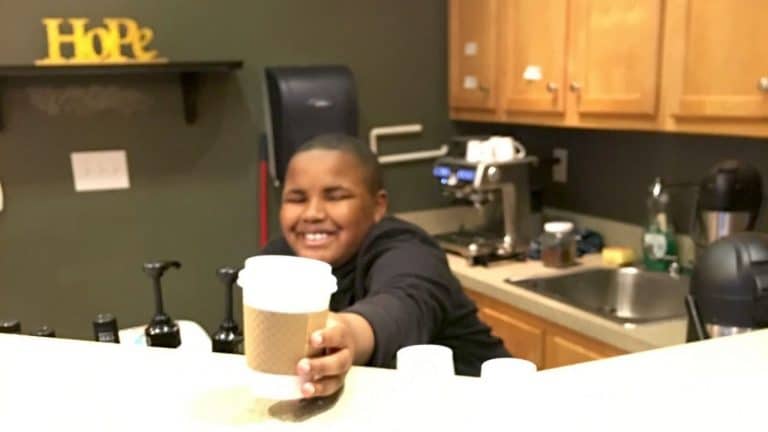 For most, starting a business is nothing but a pipe dream.
But one nine-year-old has already founded a successful coffee business.
Camden Myers – known simply as Cam – set up Cam's Coffee Co. already has five employees working at his shop in Winston-Salem, North Carolina.
Upon opening, people queued out of the door – with many regulars travelling out of their way to buy their morning coffee from Cam.
The business was started little over a year ago, with the help of his mother Latasha Barr-Myers, to develop skills, including math, communication and attention span.
Latasha said: "Cam was a 10lb baby and was hung in the birth canal for several hours. He suffers brachial nerve damage to his right arm that makes every day task like shoe tying and writing difficult.
"His nerve damage was detected early but his traumatic brain injury went undiagnosed until he was almost eight years older.
"The injuries cause cognitive, physical and emotional delays. Cam can't ride a bike or tie his shoes but he's learned to focus on what he does well, which is running his coffee pop up business."
Cam's undiagnosed condition made his childhood tough, bouncing from school-to-school and suffering from several speech problems that left him bereft of confidence.
But after his parents installed a coffee bar in their home, they noticed a marked improvement in Cam's sociability and decided to use it to help him develop his skills.
This led eventually to a pop up coffee stand in a family friend's salon, which quickly morphed into a brick-and-mortar retail space that now employs five – three of which also suffer from disabilities – with six more planned in the future.
Latasha added: "We worked on varying types of skills with Cam through selling coffee such as communication, math, and goal setting.
"The benefits to Cam were undeniable. We noticed the difference in him and Cam did too.
"He quickly decided that he wanted a 'big business' and he wanted to 'help people like himself' and Cam's Coffee Co. was born."
Cam, who has an encyclopaedic knowledge of his coffee products – which he also sells online via his website camscoffeecreations.com – now wants to fundraise to expand and hire more staff, all of whom suffer mental or physical disabilities.
Latasha said: "Our current space is shared space that is only open three days a week. We are kicking off a crowdfunding campaign to help raise 20k for a new space that will employ eight more individuals with disabilities."