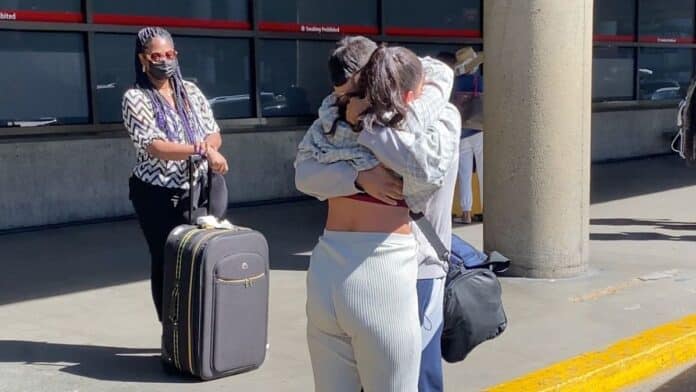 A sobbing girlfriend leaped into the arms of her long-distance boyfriend as he arrived at her local airport for a surprise reunion.
The wholesome moment between Ortencia Valdovinos (known as Gigi) and her boyfriend Raul Gomez (known as Ro) soon went viral, garnering more than 3.5 million views online.
Gigi innocently thought she was heading to Seattle-Tacoma Airport to pick up her sister Zoraida's friend, and when she arrived she had little reason to suspect anything was up.
Ro, who is based in Clearlake, California, had said he had been busy with work, so when he didn't text for a few hours because he was on a flight, Gigi was not concerned.
As she stood outside the airport on June 15, Gigi waited while her sister took out her cellphone and started to record.
Gigi innocently thought Zoraida was recording her friend's arrival, but then she said: "Gigi, I know you've been missing Ro…."
At that point, Gigi said everything clicked.
READ MORE: Brothers In Their 90s, The Last Of Nine Siblings, Finally Reunite After Year-long Covid Separation
The 20-year-old let out a short expletive, and then, out of the doors behind her, Ro appeared.
Gigi darted over to her boyfriend, leaping into his arms and sobbing happy tears.
The moment was the first time they had seen each other in three months.
Gigi said: "I noticed my sister had started to record but I assumed it was to get a video of her friend arriving.
"That's when she said, 'Gigi I know you've been missing Ro,' and my heart immediately sank because I knew in that moment he was there.
"I turned around to see him and I couldn't help but cry.
"My emotions came rushing in and I ran to hug him."
Story via T&T Creative Media