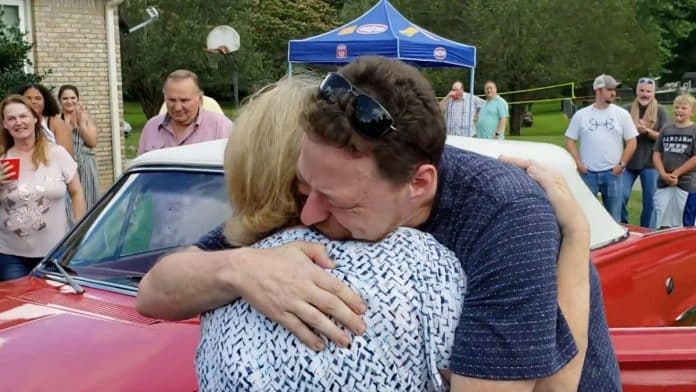 A son "stole" his mom's vintage car, replaced it with a fake – and then lovingly restored it as a surprise on her birthday.
The 1964 Plymouth Valiant Convertible sat gathering dust in Gini Brown's garage.
When her husband bought the car in 1979, he had plans of restoring it – but never managed to find the time.
But after he passed away in 2010, their son Casey Brown swore to finish the job and complete his dad's dream.
With the help of his uncle Stevie, a junk yard owner, he "stole" the car from his moms garage and replaced it under tarpaulin with a junker car.
Incredibly, his mom never noticed and over the next four years he meticulously restored the car to working condition.
All that was left was to surprise his mom and take her for a spin around the block.
Casey said: "When her 1964 rounded the corner of the house with my father's favorite song playing on the radio, she was completely caught off guard.
"For four years mom never once looked under the car cover in the garage. She never knew it was gone. Which is amazing."
Casey's father had originally bought his mother a 1964 Plymouth Valiant Convertible back in 1968.
But after trading it in for an Oldsmobile 442 without consulting Gini, she was incredibly upset.
In a bid to rectify his mistake, her husband bought another 1964 Plymouth Valiant, which needed restoring.
Casey added: "My father intended for he and I to restore it, but life kept getting in the way. We never got to restore the car for mom.
"So when my father passed away in 2011, I promised myself I would restore that car for her and dad.
"It had been in the same spot under a car cover for years."
Along with his Uncles Fred and Steve, cousin Drake – all of whom are mechanics – and his Uncle Jerry, Casey set about sneaking the car out of the garage.
Using a dummy car picked up from a junkyard owned by another uncle, Casey used boxes and objects from the garage to replicate the boxy shape of the Plymouth Valiant.
Incredibly, the stand in went undetected by Gini for four years.
In the meantime, Casey and his Uncles meticulously rebuilt the car from scratch, stripping it to the bare bones and piecing it back together with working parts.
Some parts were hard to come by, with hours spent on the phone trying to locate authentic pieces and working components.
Once complete, all that was left was to arrange the big reveal.
Casey explained: "I enjoyed the memories I made with my friends and family as we worked to get this car ready – and needed to make sure the surprise did it justice
"So, I had my Uncle Neal and Aunt Donna take mom to a movie and to antique stores.
"While they were out, I had all of my relatives from Georgia come in and we set mom's house up with a surprise party.
"My uncle Steve came over early and we took the dummy car out of the garage and placed her newly restored car back under the car cover.
"When she showed up at 2pm the yard has full of cars and all of her family waiting for her.
"We let her settle in for a couple of hours and after everyone ate some barbecue and visited for a while, I had my aunt Sharon bring mom out on to the front porch.
"We had a bounce castle out there and a water slide for the kids. Mom thought they were out there just watch the kids play.
"That is when her 1964 rounded the corner of the house with my father's favorite song playing and she got her second surprise of the day!"
Video filmed by family friend Kevin Fotovich shows Gini burst into tears as her beloved car rolls in looking brand new.
She quickly hops down from the porch to admire the car, as memories come flooding back.
Getting in the passenger seat, she take sit for a spin around the block as all her friends and family cheer.