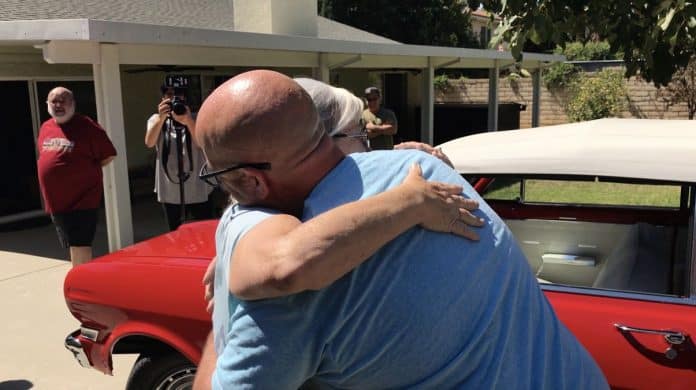 This is the emotional moment a mom is surprised with her dream car – rebuilt from scratch by her son.
Jeanie Pinto – known as Nonni to her family – was left in tears as she walked out and saw the red Chevrolet Chevy Nova convertible sat on her drive.
Her dedicated son Donny and his friend Gregg had meticulously crafted it from near-scratch over a period of six years.
It had always been Nonni's dream car, ever since she rode in one as a child in 1964.
Donny drove the car to his mom's house in Chatsworth, California, before sending her a picture of him stood next to it, asking her to come outside – before revealing the car by driving up the driveway.
Donny – who estimates the family spent around $30,000 restring the muscle car – said: "My voice was cracking as I read her replies on my phone prior to dropping off the car to her.
"It was an overwhelming moment for myself, Gregg, my dad and especially my mom."
Donny first purchased a beat up, barely usable Chevrolet Nova for $6500, plus $1500 to ship it to San Diego from South Carolina.
He explained: "We admit we overpaid and only used the body, fenders, windshield and the door – everything, and I mean everything, else was garbage.
"But we were ambitious and decided to do it.
READ MORE: Employee Gets Car Stolen – But Then His Coworkers Do Something Truly Amazing For Him
"We cut out all the floors, as they were pathed together with fibreglass.
"We eventually stopped counting how much we spent, but I would guess it was around $30,000 mark, using a lot of used parts and restoring a lot by hand ourselves."
The project was funded by Nonni's devoted husband Tony Pinto, who had himself also received his dream car, restored by his son Donny and Gregg.
In total, they spent six years restoring it, which meant keeping the whole thing secret throughout multiple visits from Nonni.
Donny added: "The car was in San Diego where I live and my parents live in LA so we had to move it each time she came to visit.
"We would hide it anywhere we could – neighbors, friends, rental trailers. Wherever we could find to stash it for a weekend until she left.
"The hardest part was moving it when it didn't drive, steer or stop.
"A couple times the parts suppliers would call my dad and accidentally get through to my mom asking to discuss shipping for her nova parts.
"She would politely reply, 'we don't have a Nova'. So thankfully she never twigged and it was secret right up until the surprise."
The family arranged a big get together with family and friends on the day of the reveal.
Donny spent all morning teeing up the surprise by sending his mom cryptic text messages.
But it was only once they sent her a picture of Donny stood next to the car not he back of a trailer and told her to come outside, that she finally caught a glimpse of the restored Chevy Nova Convertible.
Video filmed by family members shows Nonni walking outside of the house and instantly breaking down into tears as she sees the bright red convertible rolling up the driveway.
Lost for words, all she can say is, "Are you kidding me?" Before embracing her don Donny.
LOVED THIS? TRY THIS HEART-WARMING STORY: Son "Steals" Mom's Vintage Car, Restores It – Then Surprises Her On Her Birthday
Nonni, from Chatsworth, California, talking about the first time she sat in a Chevy Nova Convertible said: "I was at camp in 1964 and my dad died while I was there.
"My girlfriend's mom and grandmother came and picked me up in the car [the Chevy Nova Convertible].
"We rode home, but they didn't tell me anything.
"I rode home in the back seat and had a great time – the wind blowing in my hair."
During the journey she fell in love with the car, but upon arriving home, she learned of her father's tragic passing.
But despite the potentially negative memories of that day, she always remembered the vehicle and would name it as her dream car.
And so after saving up the money, her husband and son set about bringing her dream to reality.
Story courtesy of T&T Creative Media.