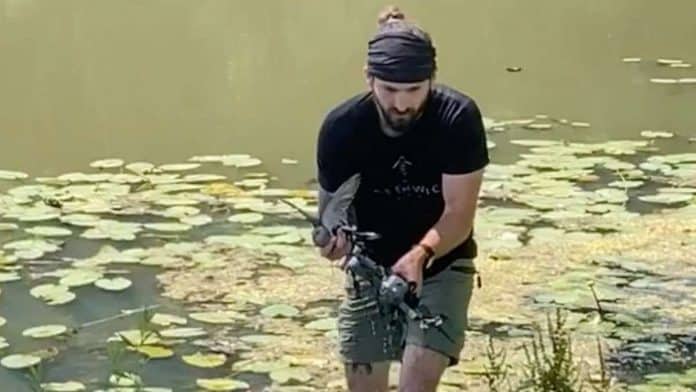 A thoughtful videographer sacrificed his $1,600 drone in order to rescue a dove trapped in fishing wire.
While out on a photoshoot in Sparkle Lake Park, Yorktown Heights, New York, Devin Groody noticed the bird was tied up and stuck in the branches of a tree overhanging a lake.
Devin, 29, was on site to shoot a marketing campaign for a real estate firm on June 26, but when he saw the bird he knew he had to act fast.
Putting his work on hold, he quickly realized the precariousness of the dove's position.
And after reviewing the situation, Devin felt the only way to rescue the stricken animal was by using his $1,600 DJI Mavic 2 Pro drone, which he initially flew up to the height of the bird.
Then, with a swift movement, Devin was able to knock the bird out of the tree – but the drama didn't stop there.
As the drone and tangled dove fell into the water, Devin splashed out to retrieve it, swiftly carrying it back to dry land.
There, Devin untangled the dove, which he then released into the air – a gesture that received a round of applause from onlookers.
Unfortunately for Devin, though, his drone did not survive the rescue – and after a couple of attempts at drying it out, the videographer said he could not get it to work again.
Through sharing a video of the rescue, shot by a bystander McKenna Duff, Devin hopes to spread the message of being kind to animals whenever possible.
Devin, from Farmington, Connecticut, said: "I was a little nervous during the rescue – mostly because there was a little kid standing right there by the lake rooting me on, and I was picturing the worst case scenario of me missing the fishing line completely and chopping up the bird with the rotors in front of this poor kid.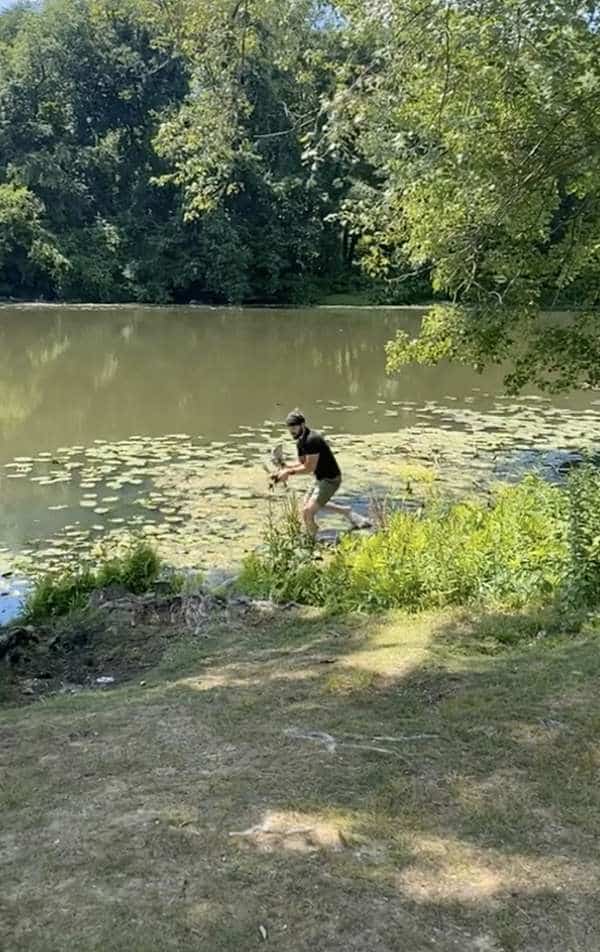 "However, I fly in close proximity to things all the time in my line of work, and felt this was the best possible option for the bird who was now lying completely motionless hanging upside down from the fishing line.
"I was still shaking with adrenaline by the time the bird flew away and really in a state of shock that it all worked out.
"I was relieved everything turned out how it did, knowing the risks involved.
"It took me a few minutes to be able to resume the photoshoot we started.
"We were only at the lake for about 10 minutes in total between seeing the bird, saving the bird, and doing photos.
"I hope others are inspired to help animals in need and put nature first."
Story courtesy of Devin Groody via T&T Creative Media