A stunned girlfriend was caught completely unawares by her boyfriend's bold proposal – as he managed to enlist the help of those participating in a Mardi Gras parade to pop the question.
Rachel Cooney, 35, had no idea what was coming next as she stood on the side of a New Orleans street with her boyfriend, James Crisham, 35.
In a beautiful moment captured on video, the couple were part of a crowd that was four or five deep, cheering joyously as the parade rolled past.
Rachel, whose "world revolves around Mardi Gras" due to her passion for the city's culture and traditions, joyously held up her hands and clapped as the oncoming float approached her – but she was clueless as to what its dancers were trying to say.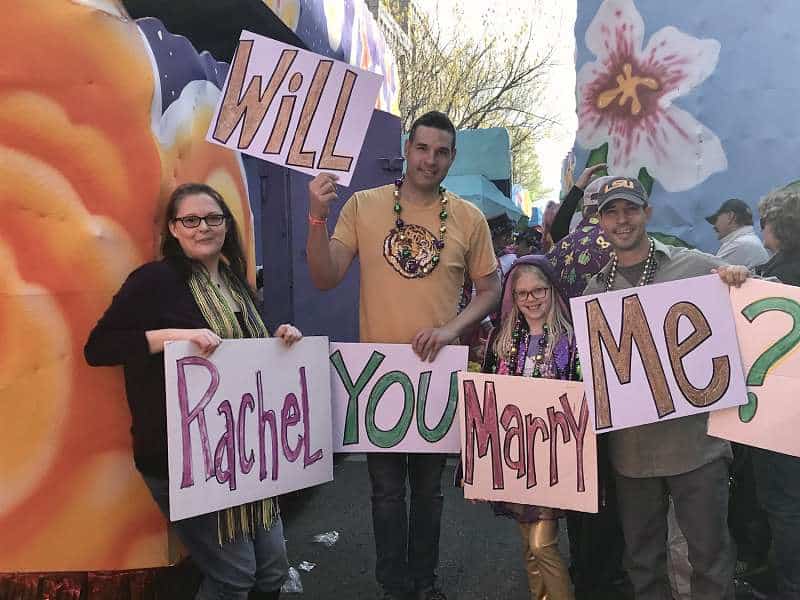 As the float moved past James and Rachel, those on the top tier suddenly held out cardboard signs to say, "Rachel will you marry me"?
James then gave his stunned girlfriend a kiss and, with James getting down on one knee and presenting her with a Mardi Gras-themed ring, a tearful Rachel said yes.
Keep scrolling to see loving video below
Knowing his girlfriend's passion for Mardi Gras, James had planned the surprise with the help of female carnival organization the Krewe of Iris.
Rachel, from St. Charles Parish, New Orleans, said: "I was in shock – it was like James and I were the only two people in the packed stands.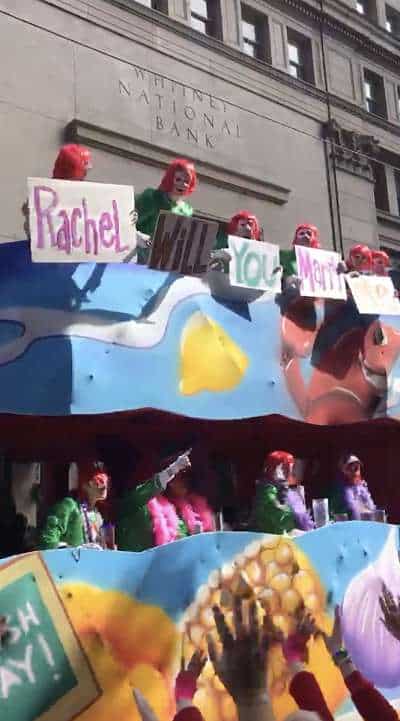 "I remember looking up and seeing my name being held up and coming down the street on this beautiful Mardi Gras float and I couldn't help but cry with joy.
"James was a nervous wreck during the entire parade and as the float approached he was afraid they may not see us or go by too fast.
"But then he looked at me and saw that I'd seen the signs coming down St. Charles and was overjoyed and crying.
"He said that was the greatest moment – all the planning and everything had paid off."