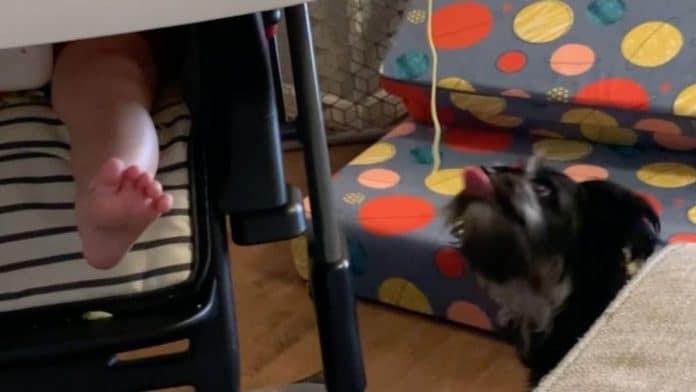 A cute baby bursts into adorable giggles as he dangles a spaghetti noodle just out of reach of his family's small dog.
Nine-month-old Jonah Luellen had started eating his pasta and broccoli dish at home in Virginia Beach, Virginia, only to eventually start flinging the noodles around out of boredom.
But just below him was his family's Yorkie mix, Link, aged two, sitting under Jonah's highchair.
Link, expecting an easy meal, was quickly disappointed upon realizing Jonah was not letting go of this particular noodle.
And to add insult to injury, as Jonah dangled it just out of reach, the toddler suddenly burst out laughing as he saw Link helplessly trying to reach to food.
The cute moment was captured on video by Jonah's mom, Hailey Barchick, on November 22.
Jonah was born in February, right before the pandemic hit, and raising a newborn without regular contact with family has been tough, Hailey said.
She and her fiancé, Sean Luellen, 25, decided to post the video of Jonah belly laughing as a way to share his family members, and to brighten others' day.
Hailey, an NICU nurse, said: "I started recording because his little belly laughs are the cutest.
"Everyone loves his giggles and seeing such a pure moment during these times.
"Our family and friends have been sharing it all over – I've gotten a lot of likes and views from people we don't even know."
Story courtesy Jonah's Jungle via of T&T Creative Media